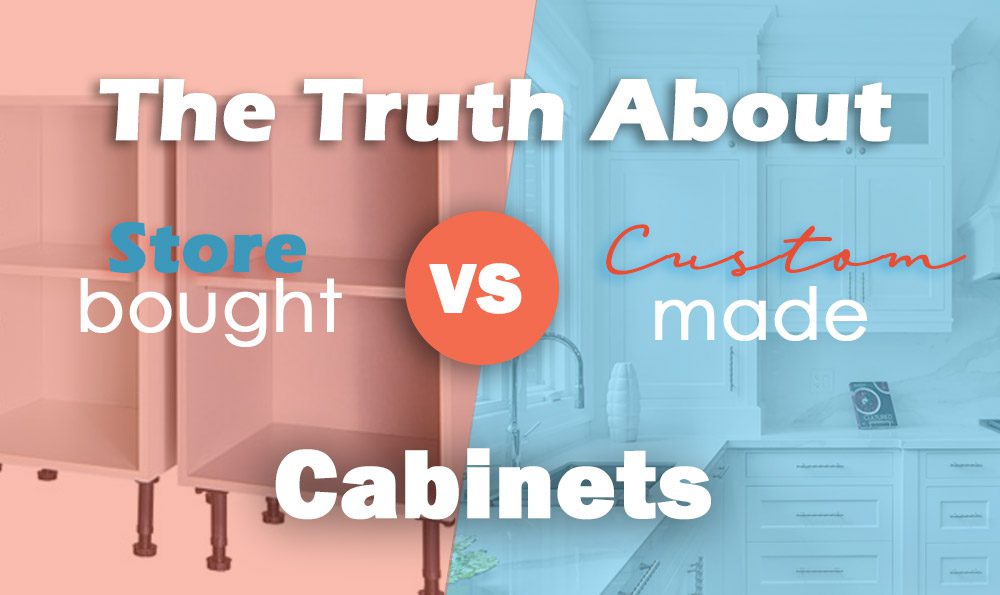 Are custom cabinets a practical choice for budget and mid-range kitchen renovations or are they really a bit of a luxury option? Are DIY and flat-pack kitchen cabinets pretty much the same as custom cabinets, but with slightly less fancy finishes and options? What if I buy off-the shelf kitchen cabinets, am I getting a good deal or am I compromising on important aspects like durability?
If you're building a new kitchen from scratch or planning a dream kitchen renovation, chances are you've been thinking about custom cabinets and all of the other cabinetry options and had questions like these. Deciding where to save and where to splurge on your kitchen can be confusing – and this is especially true when it comes to the choice between stock and custom cabinetry.
Cabinets are typically the single biggest investment in a kitchen renovation budget – not surprising when you consider that your cabinets are one of the biggest showpieces in the kitchen. Weighing up the options against your needs and budget is an absolute must if you want to get the most from your renovation dollars (and who doesn't?)
In today's post we're going to lay out in practical terms what each of the main cabinetry options out there have to offer and any drawbacks, so you can decide with confidence which cabinets will work best for your new kitchen.
What Types of Kitchen Cabinetry Options Are Out There?
So what options are out there to choose from? When it comes to kitchen cabinetry, you can basically break it down into three main categories:
Stock Cabinets
Semi-custom Cabinets
Custom Cabinets
What are Stock Cabinets?
Stock cabinets, also known as modular cabinets, are cabinets that have been pre-manufactured in a factory and are readily available to order or buy off-the-shelf. Think Bunnings kitchens and flat-pack options. No customisation is available with this option, these cabinets come in pre-determined styles and a limited range of sizes which you'll need to make work within your space and vision. Stock cabinets are normally mass-manufactured in high quantities and are often sold as "DIY" or "ready-to-assemble" (RTA) cabinets. They are typically constructed of lower-grade wood or particle board. Taken together, these factors keep costs and lead times low, making stock cabinets an popular budget kitchen choice.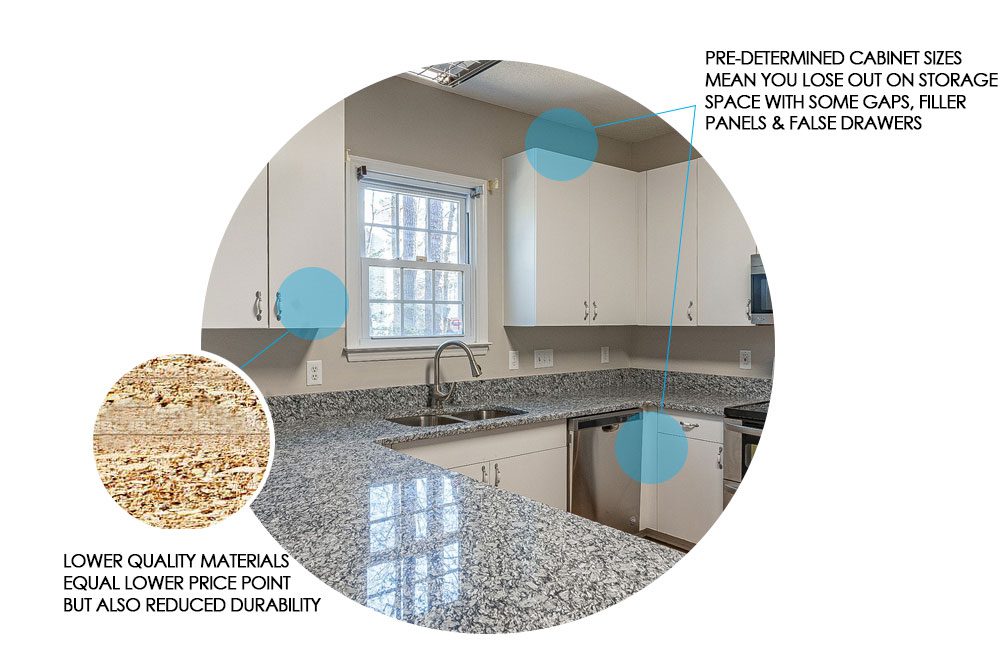 What are Semi-Custom Cabinets?
Semi-custom cabinets are essentially stock cabinets with additional cosmetic detailing possibilities. As the name indicates, semi-custom cabinets are a compromise between stock and custom cabinets. Whereas their durability and quality are generally comparable to stock cabinets, semi-custom cabinets provide additional design options, combinations and a wider range of finishes. Bear in mind that semi-custom cabinetry is still based on a limited range of looks and materials, so what exactly you're able to customise varies by manufacturer and the distinctive cabinet designs and combination possibilities are not going to be comparable to those found in custom cabinets.
With semi-custom cabinetry generic cabinet sizes still applies, which means you won't get that totally custom fit for your space, but depending on the manufacturer you can often make some limited changes to specific dimensions, like changing the size of the cabinet drawers or opting for a deeper cabinet. Expect some lead time compared to off-the shelf options as once you order your semi-custom cabinetry only then will your cabinets be put together.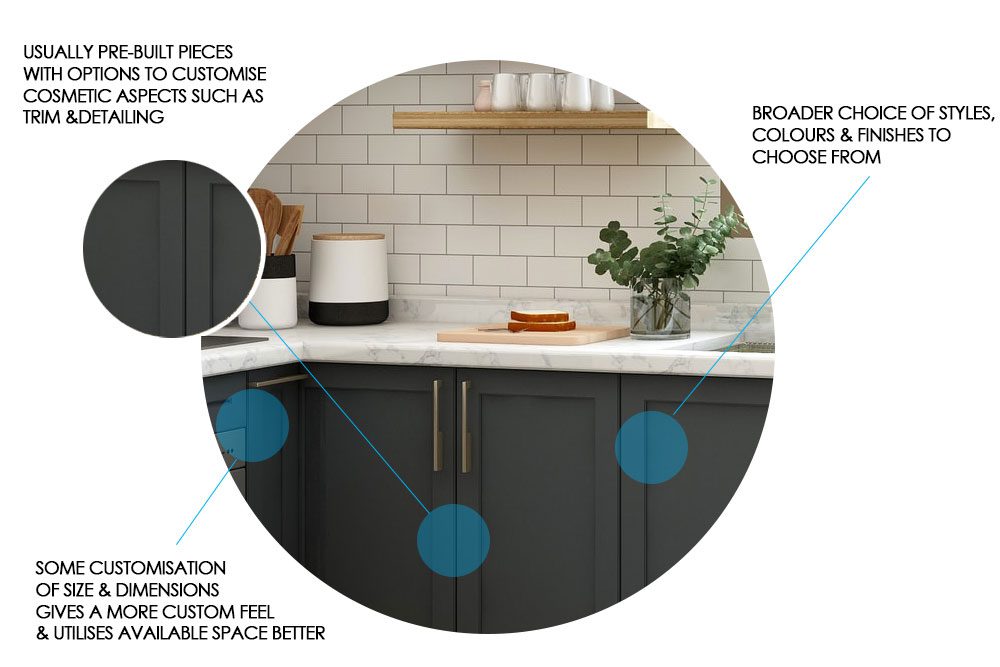 What are Custom Cabinets?
Finally, there are bespoke cabinets. These are considered to be the cream of the crop and the only way to go if you're seeking for the highest quality. Because they are custom-made to your specifications, the sky is the limit as to what you may accomplish with them. With bespoke cabinets, you get something that is built just for you.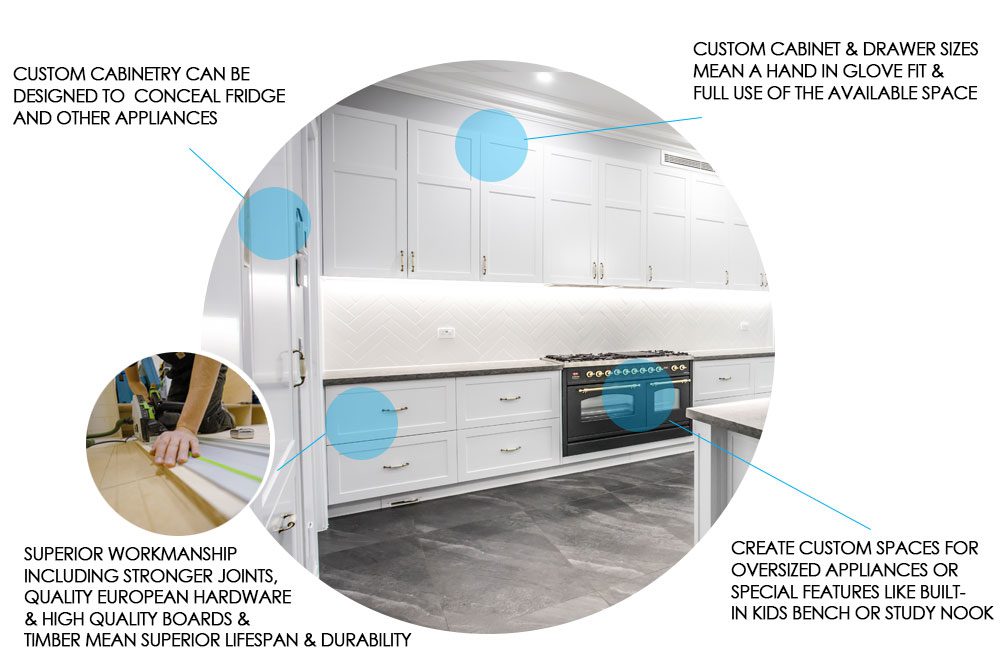 Comparing Cost of Stock vs Semi-Custom vs Custom Cabinets
At first glance, store-bought and flat-pack may appear to be the clear winner of the cheapest cabinets category. While it's true the price on the shelf is typically lower than what cabinet makers will quote you and there the added boon that they are ready at a moment's notice, what people can tend to forget to factor in are the additional costs for delivery, assembly, trades and installation.
While custom cabinets typically come with a higher price tag, this is largely dependant upon the materials and appliances you choose and also already includes various other costs such as the delivery, installation and fees for any other minor repairs that may need to be done, such as patching walls and moving gas outlets etc. It also normally includes project management so everything goes smoothly and on schedule.
When you add in the time you spend putting together your store-bought or flat-pack cabinets, the frustration that it entails or the cost of having to hire someone to install the cabinets for you, install appliances, patch walls and move plumbing, store-bought and flat-pack cabinets can often work out to be very close in price to higher quality custom-made ones and sometimes they can even work out more expensive. So it pays to take all factors into account when weighing up.
At first glance, store-bought and flat-pack may appear to be the clear winner of the cheapest cabinets category. While it's true the price on the shelf is typically lower than what cabinet makers will quote you, what people can tend to forget to factor in are the additional costs for delivery, assembly, trades and installation.
Comparing Quality of Stock vs Semi-Custom vs Custom Cabinets
Store-bought and flat-pack cabinets are cheap because of one simple reason: they use cheap materials. They are also often as bare as can be, with minimal shelving and simple hardware. While these may save you money initially, upkeep and maintenance may prove to be more demanding as they undergo the wear and tear of daily use.
When investing in custom cabinets, you're also investing in the high-quality materials used to make these. Unlike store-bought cabinets, custom designed cabinets can be made with a wide range of materials such as various types of wood or even glass and use only premium hardware. You can also talk to your cabinet maker about including features such as pull-out drawers and soft-close hinges.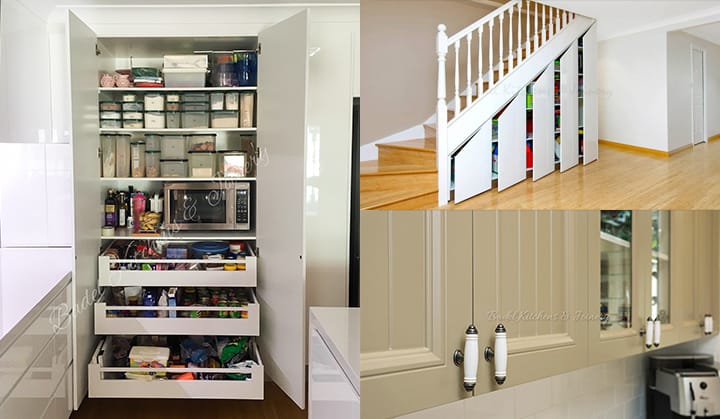 Comparing Options and Functionality
Use it or Lose it
A very common snag homeowners face when purchasing store-bought kitchen cabinets is that off-the-shelf options are usually a one-size-fits-all arrangement. Because store-bought cabinets only come in a limited range of heights, depths and sizes, they won't always "play nice" with the space you have to work with. This can cause major challenges in utilising the whole space and you can end up losing alot of potential storage space as well as having to add false drawers and "filler" panels that make things fit better. These filler panels and drawers mean you end up throwing away even more precious storage space. This often unexpected issue can really throw a spanner in the works, especially in kitchens with limited or narrow space or tricky areas such as low or uneven ceilings and irregular shaped floorplans. Having a cabinet maker create cabinets especially tailored for your space will allow you to make the most of your available space. Custom is the clear winner here.
Special Features
Special features that add functionality and maximise available space (and ultimately make life in your new kitchen just SO MUCH more enjoyable) are another popular reason why people go for custom. Custom cabinets, as the name implies, are built to your needs and specifications, so they may be just the ticket if you want to add one-of-a-kind elements to your new kitchen; options such as appliance garages, smoothie stations, an integrated computer/homework/bill-paying station or a pull out pet feeding station. Other popular bespoke cabinet features in 2022 include secret entrances to adjacent rooms or a butlers pantry, ladders within drawers to reach top cabinets, charging stations, hydraulics, and an abundance of storage space. The endless options available with custom cabinetry mean that this is where this option really pulls ahead of semi-custom and stock cabinetry. These are often the kind of features that you only fully appreciate once you start living in your new kitchen and enjoying the how the enhanced functionality makes your life easier. The opportunity to select a unique design and incorporate organising solutions will improve the practicality of any kitchen, and play a significant role in how in love you end up with your new kitchen.
Want to Know More About Custom Cabinetry Options for Your Home?
If you've decided that custom is the right fit for you, speaking to a cabinet maker who specialises in custom kitchen design is a great way to start the ball rolling. You can discuss your vision, budget and ideas with a professional designer and get advice on how you can maximise your space and renovation dollars. If you're ideas are already outpacing your budget, they can also give you ideas on how to achieve the look you want for less and can assess the space. The knowledgeable team of designers at Badel Kitchens offer a free in-home design consultation and will also provide a free quote and design advice to help you start your renovation project on the right foot.
Badel Kitchens and Joinery is known for creating luxury custom kitchens in Sydney and bathroom renovations Sydney. Badel Kitchens and Joinery provide full project management of your renovation and old school customer service. from interior fit out companies in Sydney. Discuss your ideas and budget with one of our kitchen designers now!