Expert Kitchen Designers Sydney
Your Number One Choice For Beautiful Kitchen Designs in Sydney
Ready to get started on that beautiful new kitchen design that you've always dreamt of? All our kitchen projects in Sydney are worked on and improved with advice and assistance from a reliable kitchen designer.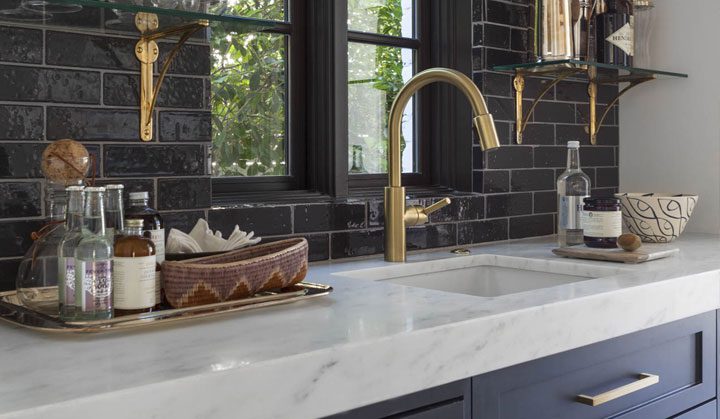 Get inspiration from our kitchen designers.
Achieving a stunning and functional kitchen design with real wow factor can be tricky and with ever changing styles and trends a professional kitchen designer can help you create a space you will love for years to come. Badel's expert kitchen designers are the best at what they do and second to none in the industry.
Whether you require a modern or contemporary feel or you are looking for a more traditional feel, our professionals are always on the ground to guide and advice you on everything you need to know from initial design to installation.
We work closely with you to understand your needs and create your dream kitchen that is perfect for you and your family.
Get the benefits of a kitchendesigned by experts in the industry.
Custom Kitchen Designs
You can easily fill up your space with bench-tops, cabinets, and drawers, but it is more difficult to come up with a kitchen design that is more practical, beautiful, and functional for your space. It is our passion to create and design the best kitchens that you can never forget.
Connect with a Kitchen Designer
Talking to an expert designer to help you in planning your space is very vital throughout the process. You can do this in many ways that you think is best – a showroom appointment, video call, even in-home consultation. They will transform your project into something great.
Full Project Management
From the very beginning of consultation to when we first discuss your wish list to the point where you tell us that you are satisfied with the completed new kitchen, we stand with you throughout the entire process. You are sure of getting the best results with our start to finish process.
Featured Sydney Kitchen Designs
Kitchen Renovation Woollahra

Kitchen Renovation Arncliffe

Kitchen Renovation Putney

Kitchen Renovation Norwest

Kitchen Renovation Castle Hill

Kitchen Renovation Petersham

Commercial Fit Out Parramatta - Display Suite 2

Shop Fit Out Sydney Airport - Oxford
How kitchen designers take your kitchen from just good to something great
You might be wondering why you should employ the services of a Sydney kitchen designer to help you with your dream kitchen. Moreover, it is just a new kitchen – how hard can it get?
We often let our clients know that it can be easy to fill their space with bench-tops, cabinets, and drawers, but it gets harder when you desire something more practical, functional, and beautiful.
We are yet to encounter a client who does not desire a wonderful kitchen in all ways. Although we've met clients who tell us that they have lived in their house for many years and thus they know what they want exactly in the kitchen, we always try to encourage them to take advantage of the benefits and input a professional kitchen designer can bring to your kitchen project.
The fact that you know the space well might also give room for bias when valuable insights are introduced by an expert. Let's take a different approach to our questions – why risk missing out on valuable, professional assistance from a kitchen design expert?
Chat with us today
Benefits of Using a Kitchen Designer
Meeting deadlines and staying within the budget is as vital to us as it is to you. With that in mind, we never cut corners or take shortcuts. We ensure we take all the turns to produce brilliant finishes with quality craftsmanship.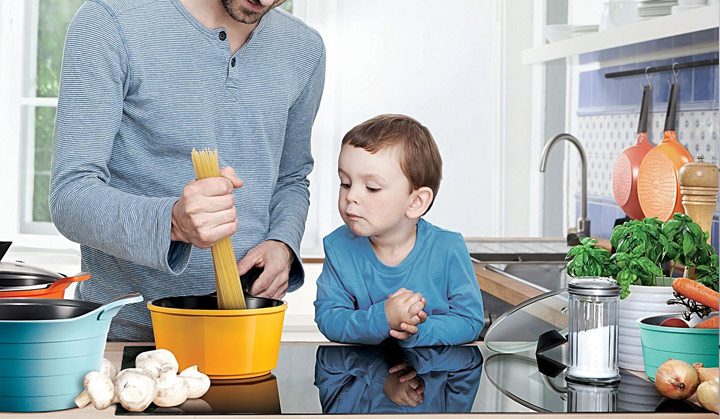 Getting the best that works for you.
A professional designer will talk not only about the size of the space but also about how you will be living in that space and what your particular needs are. A family of 4 has different needs compared to an adult couple, and this affects the overall look and feel of the kitchen.
Some clients just want to cook while some are entertainers.
Everyone can enjoy interesting products such as upholstered furniture, soft-close drawers, pantries, and easy-to-clean tiles. At the end of the day, what matters most to you is crucial when making decisions about all aspects of kitchen design.
Get involved with the latest trends.
Most consumers these days prefer clean lines and no handles. The trend for induction cooktops over their gas counterparts is a perfect example of this. Many people choose steam ovens over microwaves. They prefer an under-mount sink without draining boards. A designer can advise what is best for you and your situation.
Why not try computer software that allows you to stay home and see what the new kitchen will look like in your space? Alternate the colors to see which one is best for you. It is best to look at a computer screen than the lines on the paper.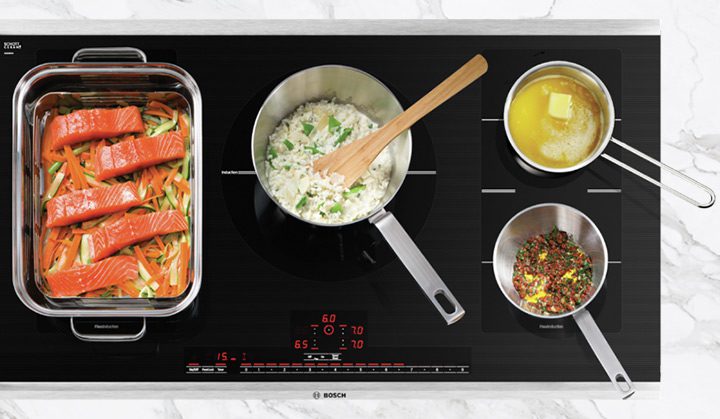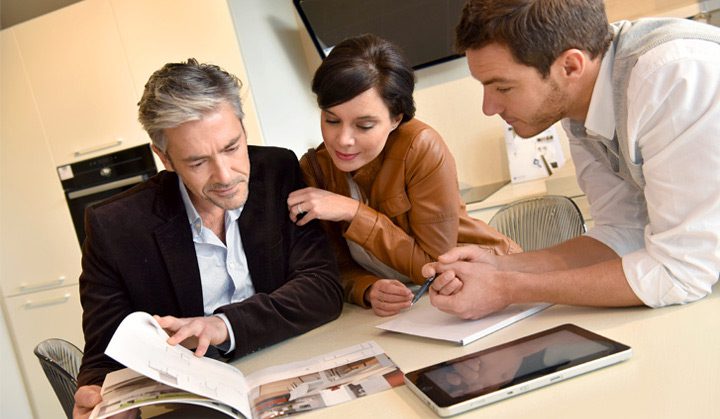 Designer Know-how.
Experience matters, and our designers know what works in kitchen projects and what doesn't.
Their professional advice will save you from being stuck at any stage of the project.
They will also tell you about budgeting and how to get the most out of your money.
Design a world-class kitchen.
A kitchen designed in Sydney by us is designed based on quality and functionality. High-quality Australian design materials are essential. They make sure your beautiful new kitchen passes the test of time – still retaining quality in ten years as the first day. In terms of functionality, some designers will push through something that suits them better than you (like many cost-cutting wardrobes) or simply tries to fit the space with too much. Our only concern is what is best for you and a result that best meets everyday needs. Be it a water kettle or a kid's iPhone being charged on the bench; most kitchens fill up fast. If we did a good design with the decor, when you place your items on top, the kitchen will still look clean and balanced.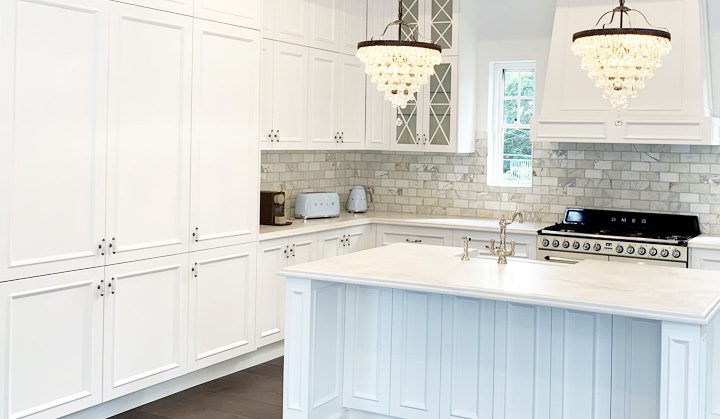 Why Badel for your kitchens? Many years of custom design experience
Professional Kitchen Designers
Creating a new kitchen is a big deal, but Badel tries to make it as comfortable and stress-free as possible. We apply our years of experience with a wealth of knowledge about new innovations to explore and take you through your kitchen project from start to finish.
The Experts in Kitchen Designs
We passionate about working with you to make your space accessible and the best there is for every dollar you spend – so we can achieve the right results for you. We take pride in our work, and our designers treat the customer space as if it were their own.
Complete Project Management
From the very beginning of consultation to when we first discuss your wish list to the point where you tell us that you are satisfied with the completed new kitchen, we stand with you throughout the entire process. You are sure of getting the best results with our start to finish process.
Reliable, Trusted and Fully Licensed
There is nothing like entrusting your work to a reputable and licensed company (license number: #258123C). We are proud members of the Master Builders Association and the Housing Industry Association, and hold all appropriate insurances for home renovations.
Top-Quality Products and Suppliers
All our kitchens are created using only A-grade, high-quality products. All our products meet Australian requirements and are built to suit Australian conditions making them stand the test of time – a feature other cheaper and inferior products can't offer.
100% Dedicated to Your Satisfaction
We are 100% dedicated to you, the client. We only see the job as finished when you are 100% satisfied. Furthermore, you have a 10-year guarantee, which is a sign of our dedication to your satisfaction.
What Our Customers Are Saying