Minimalist Kitchen Design, Milsons Point
Kitchen Projects
Thinking of a contemporary minimalist kitchen design for your home? Sometimes a gourmet chefs kitchen that is the undisputed centre of attention around which the rest of the home is organised, isn't the order of the day. In fact, some of the best kitchen designs have a minimalist design aesthetic. That was certainly the case with this stunningly located luxury apartment in Milsons Point. With uninterrupted views of Sydney Harbour, the clients wanted a kitchen space that complemented the property's water views, rather than drawing attention away from them.

Nestled in the lower North Shore of Sydney, in the suburb of Milsons Point this beautiful home received a complete makeover from Badel Kitchens including a luxury minimalist kitchen, built in custom storage, fireplace, study area, wardrobes and bathroom. The client brief included the following key requirements:

A contemporary, open space that maximises the harbour views from both kitchen and living areas.
Open plan kitchen with a modern minimalist feel and clean lines
Spacious island bench featuring Smartstone Santorini benchtops
Minimalist kitchen cabinets constructed from sleek high gloss joinery
Custom storage and cabinetry for every room of the home to carry the clutter-free, sleek feel throughout the home.
a brand new bathroom and en suite renovation featuring marble accents

The lines of the handle-less cabinetry and un-broken colour palette of greys flowing through the kitchen and into the living spaces take their cue and adhere to the overall aesthetically clean lines and relative simplicity recognisable in the overall broader design of the home. Reflective surfaces of glass and mirror-finishes have been incorporated throughout in the backsplash and other finishes to amplify the harbour views.
If you would like more information on this project or would like to discuss minimalist kitchen design ideas for your home, we invite you to contact the designer team at Badel on (02) 9677 0855 or simply request a free quote and design consultation below and we'll be in tough to arrange a time.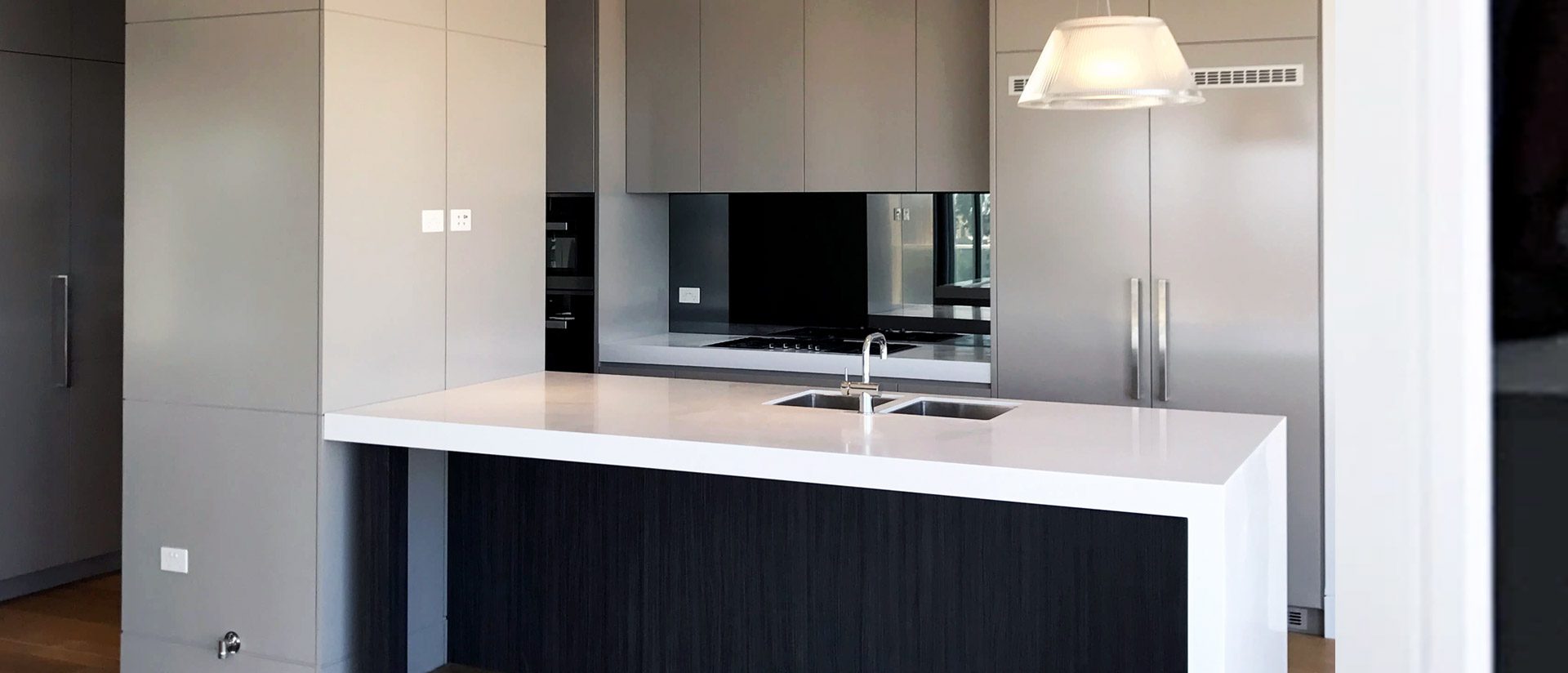 Are you planning your own kitchen project?
Get in touch with a Badel Kitchens Designer for a free quote and design consultation.