So, just how much does it cost to renovate a kitchen in 2021? Our guide will help you get a good understanding of the costs for homeowners in Sydney in 2021. You'll find out what you can expect for your renovation dollar, as well as tips from the experts on where to save (and where not to) in order to get the best out of your kitchen reno budget.
If you've found yourself wondering "how much does a kitchen renovation cost in Sydney these days?", you're in good company. Kitchen renos are on the rise and whether you've just finally had enough of your kitchen's 1980's "Pretty in Pink" cabinets or you've been finding yourself spending more and more time on Pinterest fantasising about organising your pantry by colour and category, finding out the typical costs is a great first step towards making your dream kitchen a reality.
If You've Got The Renovation Itch, You're Not Alone…
Kitchens are the heartbeat of the house. They are a space where we come together to cook, chat, eat, work and have fun with our family and friends. It's no wonder then that a recent survey of over 7000 Aussie homeowners, conducted by Houzz, found the kitchen is the most popular room to renovate. If you're one of these homeowners yearning to transform your kitchen into a space that'll make you feel as warm on the inside as a batch of choc-chip cookies (fresh out of your new euro steam oven), you'll undoubtedly be wondering how much your dream will cost and what your budget will allow.
What Does An Average Kitchen Renovation Cost?
Getting a grip on the cost of your project is vital to planning and getting maximum bang for your buck. However, it's a bit like asking how much a car costs. It really depends on your needs and can vary widely. Given the variation, probably the most helpful way to answer the question of how much a kitchen renovation costs, is to look at the typical ranges of cost for a new kitchen.
Kitchen renovations can typically be broken down into three categories:
Budget kitchen renovation cost – $15,000 – $ 25,000
Mid-range kitchen renovation cost – $25,000 – $45,000
Premium kitchen renovation cost – $45,000+
Budget Kitchen Renovation Costs
This budget range is easily attainable for smaller or apartment-sized kitchens. To save on cost, budget kitchen renovations typically just deal with the aesthetics and surface-level fixes. These include new cabinets and splashback, a fresh coat of paint or a new countertop. Work involving structural, electrical or plumbing changes will most likely not be within budget.
Expect to spend a big portion of your budget on cabinetry, especially if you're going to opt for custom joinery. This could be anywhere from $4,000 – $10,000. If you're looking to save, melamine is a great option as it is the most economical material for both cabinets and countertops.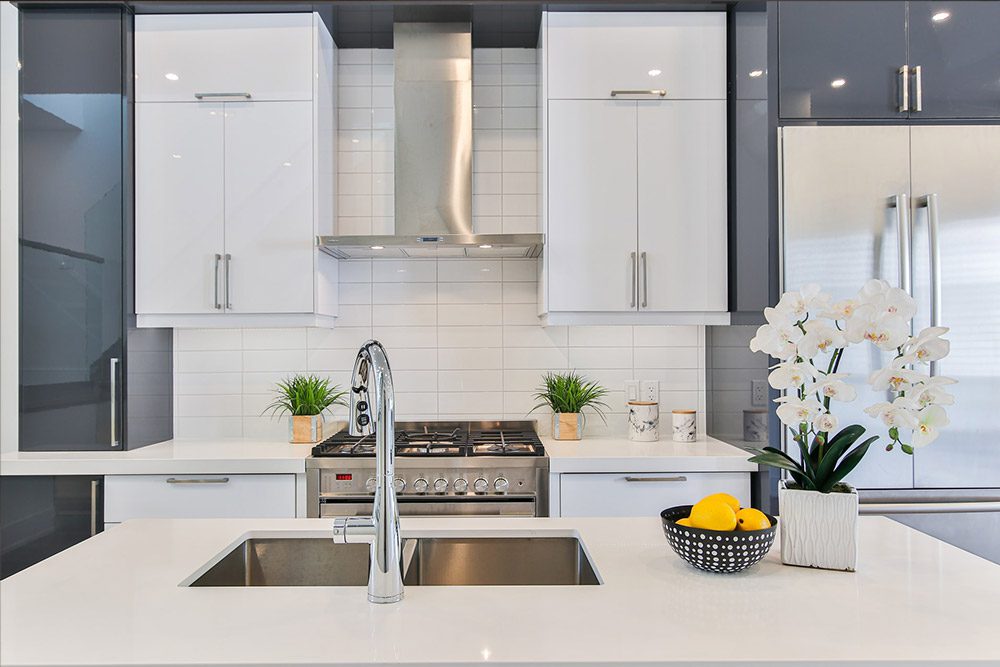 Mid-range Kitchen Renovation Costs
According to Zaia Badel, Director of Badel Kitchens, with this price range, you can definitely get that coveted dream kitchen. He says "A majority of our kitchen makeover projects fall within the mid-range category and include a lot of custom design and often, an overhaul of the layout, opening up of the room, creating big changes in function and form." Mid-range renovations are commonly custom designed, so you can get one that's tailored to your needs and specifications.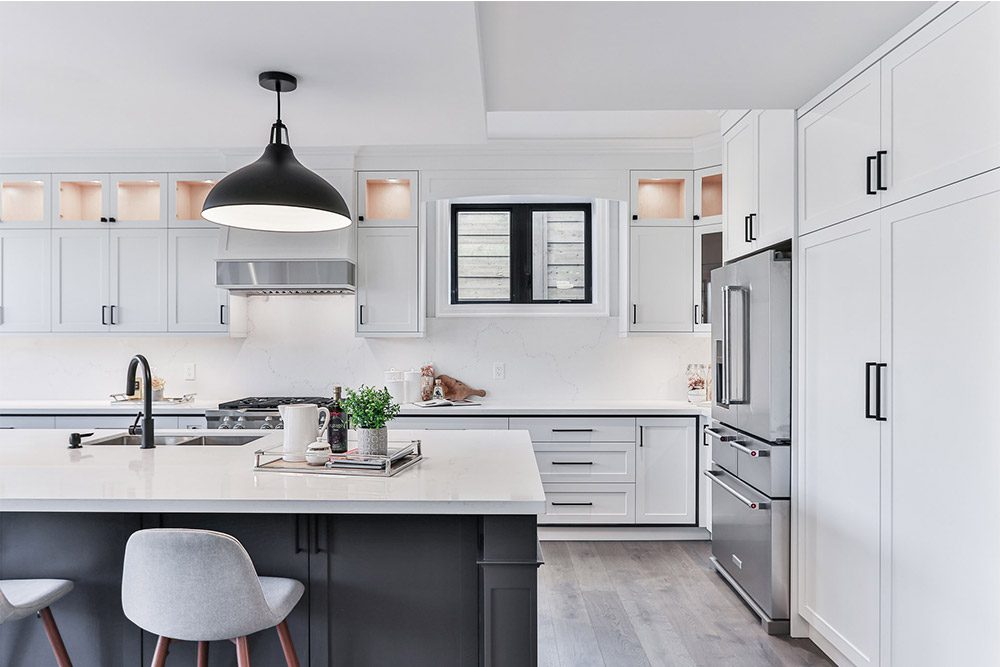 Because it is custom designed, you'll have more flexibility and freedom when it comes to the layout of your kitchen. You'll be able to change the floor plan of your kitchen to suit your needs, which may entail reworking the electrical wiring and plumbing as well.
How much it will cost and the division of the budget will depend on what you intend to use it for. For example, with homeowners who love to cook, a majority of the budget could be spent on high-quality countertops such as natural stone or on a 6-hob cook-top. For homeowners who love to entertain guests, the money could be put towards getting quality lighting fixtures, seating and homewares.
High-end Kitchen Renovation Costs
For a lucky few, sometimes, the sky really is the limit when it comes to their kitchen renovations.
These custom designed kitchens come with top-of-the-line materials and finishes such as marble countertops, industrial cooktops and premium appliances. Think Sub-Zero appliances, Wolf ovens and a Miele dishwasher.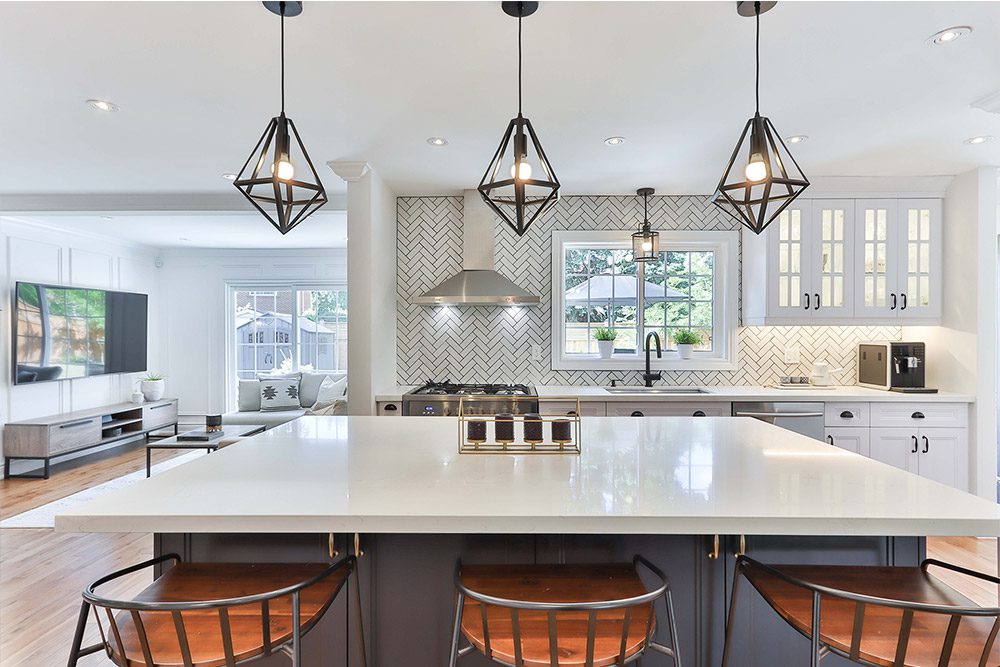 Apart from the pricey elements your kitchen may feature, high-end renovations are also expensive because of any structural, electrical or plumbing changes necessary to make your dream layout come to life. This may include tearing down existing walls to make way for an open layout kitchen or changing the layout to create a more efficient workflow in the kitchen.
Some homeowners also opt to have their appliances seamlessly hidden behind custom joinery so it blends it with the rest of the cabinets. This can easily ramp up the price tag as each part has to be carefully designed, measured and constructed.
How Does Sydney Kitchen Renovation Cost Stack Up?
Location also plays a big factor when it comes to computing for your kitchen renovation cost. The average kitchen renovation cost in Australia comes in around $17,000 but this average increases to $20,000 in Sydney.
Usually included in this are compliance certificates and permits, labour fees and materials.
Sydney kitchen renovations cost vary greatly from project to project and the complexity as well as materials used can greatly affect the end price tag.
What if you've got champagne taste (but beer money)?
As already mentioned, the average costs should be taken with a grain of salt. A low-budget makeover may cost as little as $10,000 for one property, while in another it could cost as much as $25,000 or more. No matter your exact budget here are our top tips to curb costs if you want to achieve a more luxurious kitchen on a budget:
Invest in Quality Cabinetry
Firstly, try to get the best quality cabinetry that you can afford. This is not the area to scrimp on cost. Cheap cabinets chip, scratch, peel and get damaged easily. There's nothing quite as gutting as investing a healthy whack into a kitchen reno that should last you for years to come, only to have the shine wear off in the first year or two, literally.
Keep Plumbing and Electrics
Where you can definitely save money is in leaving your sink and electrical outlets in their existing location. This will save you big on plumbing and electrical installation.
Cut out the middleman
Do what big builders do and deal directly with a kitchen manufacturer. Rather than going to a retail store with a showroom of pre-designed kitchens, skip the middleman and skip a whole bunch of expense. Think overheads – that showroom and the team of salespeople adds directly to the bottom line of your new kitchen. Going straight to the source and getting your kitchen from the manufacturer is a great way to design and build your ideal kitchen for a fraction of the cost of large retailers.
Backsplash Selection
Instead of spending money on costly, designer wall tiles, opt for an attractive acrylic splashback.
Flooring Options
Instead of ceramic or porcelain tiles, consider vinyl flooring. There are alot of great modern flooring options that have good durability. These can save you a packet compared to tiles whilst still giving you an updated and modern look.
Appliances
If any of your current appliances are still in good condition, keep them.
Consult a Kitchen Designer
If you pick fittings and finishes properly, quality and style do not have to be massively more expensive. Kitchen designers are educated to show you all of your alternatives, not just the most costly ones, if you need assistance.
Conclusion
It's difficult to pinpoint just exactly how much a kitchen renovation will cost. But keep in mind that the key factors in pricing are size of the kitchen, scale of work, materials and finishes.
At the end of the day, how much you shell out is entirely up to you. With the amount of options available in the market today, there will always be places wherein you can compromise in case you go over budget.
Whether you opt for a budget kitchen renovation or go the whole nine yards with a luxury renovation, what's important is to work with a knowledgeable kitchen renovation company. They not only have the proper licenses and insurance for peace of mind, but can guide you so you get the most from your money. Badel Kitchens and Joinery has had over 20 years of experience designing and manufacturing the best kitchen designs in Sydney.
Get in touch with our experts now!