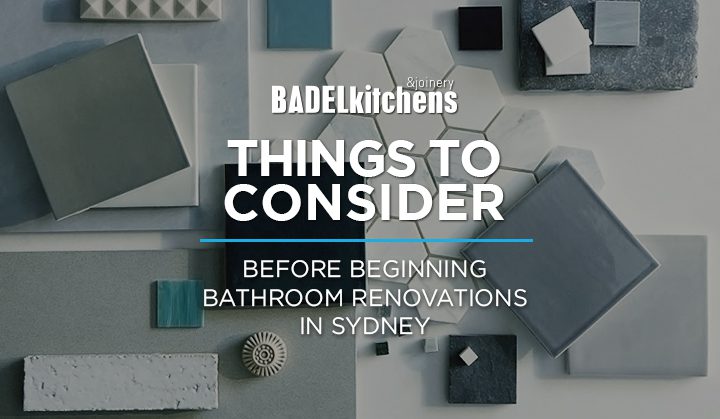 A small bathroom renovations Sydney is a huge project. It can be both thrilling and nerve-wracking. Before you begin sampling paint colours and picking out tile patterns, make sure you consider these.
1. Budget
The most important thing in any project is the budget. The budget dictates all of your succeeding choices – your timeframe, your furnishings, tile choices, etc. Before you even begin with your bathroom renovations, figure out how much you can realistically spend and make sure you strictly stick to it. Include a buffer for any unforeseen problems or expenses that may occur.
2. Schedule
How much time can you dedicate to the project? Do you want work to be done on weekends or limit the construction to weekdays? Creating a detailed is important as it can affect how much money you end up spending. A renovation schedule is especially important for homes with only one bathroom. Remember to include things such as procurement of materials and installments when creating your timeline.
3. Supplier
People often forget this one detail when it comes to renovation projects: you work around the supplier's schedule, not the other way around. Suppliers seldom have a huge amount of a certain product on hand at any given time. Order in advance to accommodate your supplier's schedule. Factor in the actual order process and shipment as well.
4. Contractor
Some homeowners opt to renovate their bathrooms on their own, underestimating the amount of time, skill, and experience actually needed. Instead of saving money, they actually end up spending more because of mishaps along the way. Find a licensed contractor you trust to work with on this huge project. They can give you advice on the best materials, colours, and layout to use in your bathroom. Check out our list of the 7 things you need to ask your contractor [LINK] before beginning any project.
5. Aesthetics and Functionality
Keep in mind that aesthetics and functionality should always go hand-in-hand. Look back on what you want changed in your bathroom and why. Some things to consider when picking your design is the amount of people using your bathroom, how they will be using it, and what kind of climate you have. Climate is often forgotten when it comes to bathroom renovations in Sydney, but Australian weather can be quite extreme and homes are repeatedly subjected to extreme heat or humidity. Choose a design that will address each of your needs while still reflecting your personal style.
According to realestate.com.au, some common pitfalls homeowners face are
Not Planning Ahead

make sure you think ahead and consider every viable option before you begin your renovations. It's best to consult experts who know what they're doing

Not Considering the Basics

Take note of your existing bathroom and its layout. Unless you're doing a total re-do and tearing everything down, you're going to have to work with the current space and dimensions. Take note of existing cavity space, concrete walls/floors/ceilings, existing plumbing and circuitry etc.

Poor Shopping Choices

Be careful when shopping for fixtures and fittings. Make sure these fit and work well with the intended plan. Consult with an expert and ask what's best. Oftentimes, it's best to go for more expensive fittings and fixtures that will surely last you years over cheap fixtures that need frequent replacing.
Bathroom renovations can be confusing but as long as you consider these before diving headfirst into it, you'll be just fine. Consult with our bathroom renovations expert to help you make your bathroom renovation process as smooth as possible. Badel Kitchen and Joineries have over 20 years in experience heading bathroom renovations in Sydney. Contact Badel today for your free quote.