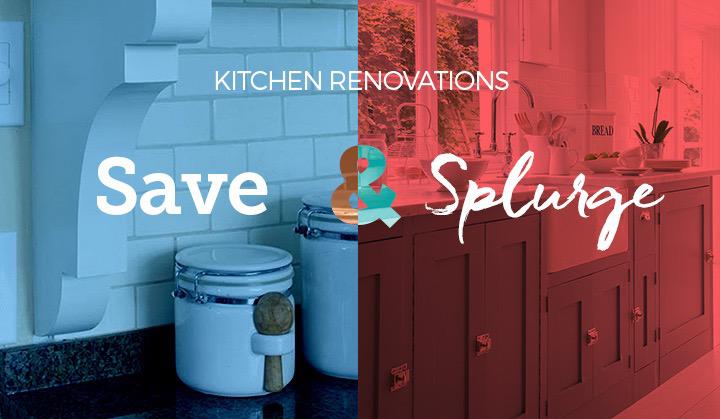 New kitchens don't have to be costly. It's all about knowing where you can save money, and what you should invest on.
Save: Sink
Although the sink is often used, you don't need to spend a huge part of your budget on it, especially if it's an undermount. There are a lot of durable stainless steel sinks that are available, and best of all; it won't ruin your budget.
Splurge: Faucet
A stylish and sleek faucet can complete your kitchen's look. You'll be using your faucet often so invest in a sturdy, good-quality faucet. Look into purchasing a pull-down faucet which makes dishwashing a breeze.
Save: Cabinet Pulls and Knobs
There are a ton of cabinet pulls and knobs available today. It may not seem like much but they can add the last details to finish and tie in your new kitchen together. There are several kinds, like chrome, wood, and brass, so find the one that complements your new kitchen best. Your kitchen supplier is sure to house multiple options at various prices.
Splurge: Cabinets
Cabinets are an integral part of any new kitchen. Cabinets made with quality materials offer a huge return on investment as they can last years with minimal upkeep. Maximise the efficiency and functionality of your cabinets by consulting with a professional contractor. Good cabinets can make working in the kitchen so much easier.
Save: Backsplash
There are a ton of backsplash options you can get from a reliable kitchen supplier. The good news is, they aren't that expensive! You can get stylish options at an affordable price. Or think outside the box and use plexiglass or clear glass with a brightly coloured fabric beneath it for a look that's unique and inexpensive.
Splurge: Countertops
The countertop is the first thing you see in a kitchen, and it can set the tone for the entire kitchen. Kitchen islands particularly are a great investment. They're one of the most utilised parts of the kitchen, so spending a good part of the budget would yield a great return on investment. You won't have to worry about any nicks or scratches if you use quality material.
Save: Lighting
Good lighting is necessary for safety and efficiency. The great part is it doesn't have to cost a lot. Quality light fixtures in stylish options are available at low prices. Consider going to vintage stores to get them at an even lower cost, without having to sacrifice on the design.
Splurge: Appliances
A huge chunk of your budget should be allotted for your appliances. They're the ones that will be used on a daily basis so it's wise to invest on things that will work well and will last long. Large kitchen appliances, such as refrigerators, stoves, and ovens, are appliances you will have for a long time so it's better to spend on good quality and energy efficient ones from the very beginning. It could save you a lot of money down the line.
Kitchen renovations can seem like a daunting task but it shouldn't overwhelm you. Knowing when to save and when to splurge can help you allocate your budget and prevent you from overspending.
Need help finding options for your kitchen renovation? If you need a kitchen supplier, look no further. Contact us and we'll assist you with finding whatever it is you need while staying within your budget.