Stunning Bathroom Renovations Sydney
Beautiful bathroom renovations,built to stand the test of time.
Whether you want to make some small upgrades or do a full-scale bathroom renovation, you'll love our locally made, handcrafted bathrooms built by industry-leading bathroom renovators. Our passionate team of craftsmen and designers are absolutely dedicated to creating top quality Sydney bathroom renovations.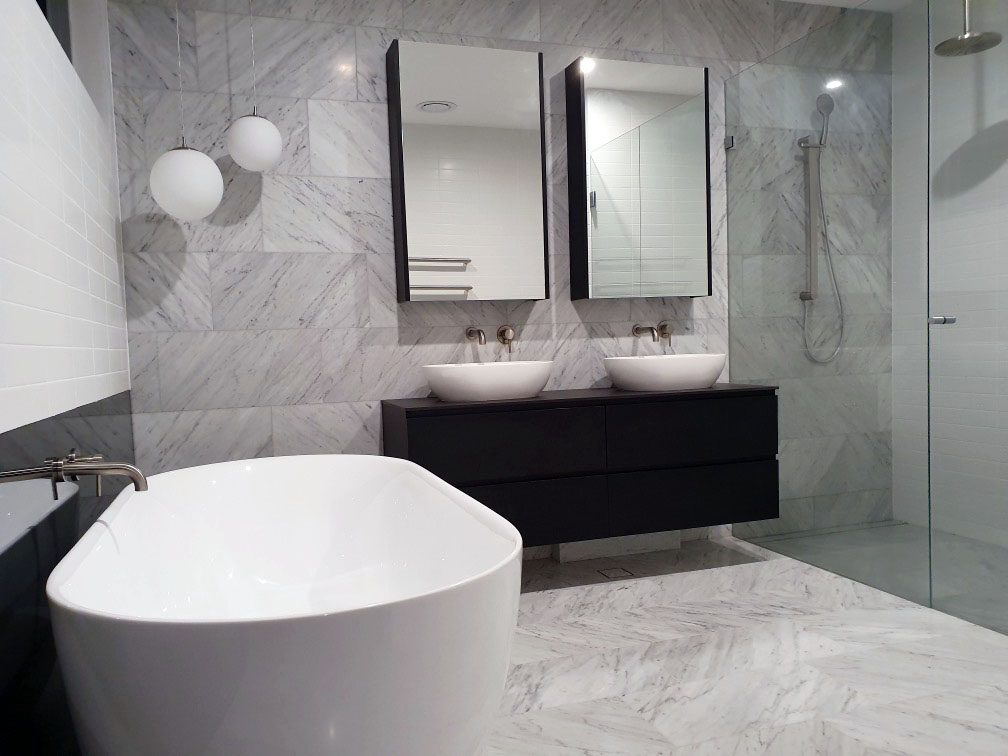 Locally crafted, quality bathrooms by expert renovators you can trust.
Badel is an Australian family owned and operated company that designs beautiful bathroom renovations Sydney loves, in a variety of styles.
Commitment to Service
We employ the latest technologies in bathroom design and installation, but when it comes to customer service, call us "old fashioned". We still believe customer service matters and are proud of the difference you will experience when you deal with our amazing team.
Commitment to Quality
We are committed to providing quality, trusted and affordable bathroom renovation services. Because of our quality work and excellent customer service, we have become one of the most trusted names in the industry.
Providing Peace of Mind for Your Bathroom Renovation Project
When Quality Matters
At Badel, we know when it comes to bathroom renovations, quality truly matters. We pride ourselves on using the very best materials to create bathrooms that look stunning today and for years to come.
Renovation Expertise
With over 20 years of experience in bathroom renovations, we have the in-depth knowledge and the technical know-how to deliver the bathroom design you've always dreamed of, on time, on budget and hassle-free.
Fully Project Managed
Your entire bathroom renovation is project managed from start to finish. A dedicated project manager will guide you from design concept to early planning and right through to your bathroom's completion.
Why Choose a Badel Custom Bathroom Renovation?
When you're investing in a bathroom renovation, you want every last inch of space to really work for you. Depending on your needs, you will probably need to fit a shower, bath, vanity, mirror, toilet, storage and more into a limited space. From the quality of the materials to the workmanship and waterproofing, the skill of the designers and tradespeople creating your bathroom is vital.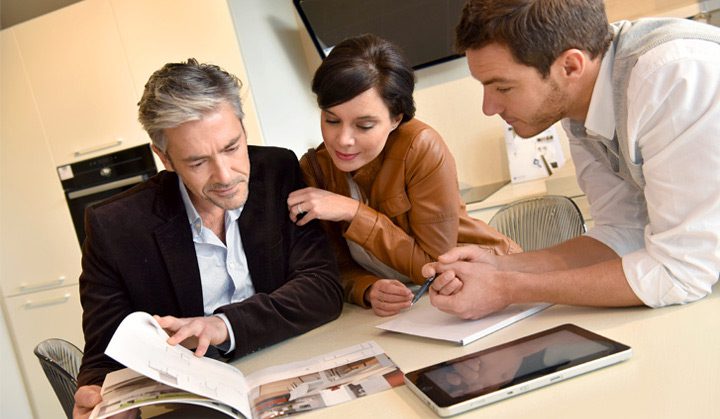 Make the Most of Your Sydney Bathroom Renovation with Badel
In-house design consultation
Expert advice to maximise space and functionality
Qualified trades, fully licensed and insured.
Top quality products and materials, designed for Australian conditions.
Clear-cut process with full project management.
On-time delivery of all services
On-budget renovations with great value prices and no hidden costs.
Our Services
Custom-made Bathrooms
Get a custom-made bathroom that fits you and your home like a glove. We work closely with all our clients to create unique bespoke bathroom renovations.
Designer Bathrooms
You might have a taste for exquisite things in life! The team here at Badel can help you realize your dream of a designer bathroom that stands out from the rest with elegance and class.
Ensuite Bathrooms
Redesign your ensuite bathroom and add value and a touch of glamour to your property with our bathroom renovation service here at Badel Bathrooms.
Modern Bathroom
Looking to get a modern bathroom? Badel is here to help! You can upgrade your outdated bathroom using a modern bathroom style that will make your bathroom the talk amongst your friends.
Luxury Bathroom
Add a touch of class and luxury to your new bathroom. Badel Bathrooms remains the leader in the industry known for creating luxury bathrooms of uncompromised quality that are nothing short of spectacular.
Commercial Bathrooms
We also go beyond home bathrooms. You can also see the signature commercial designs of Badel Bathrooms in hotels, offices, motels, and many more places.
The Bathroom Renovations Sydney Homeowners Love
Bathroom renovations, handcrafted in Australia.
Every custom bathroom renovation is locally designed and manufactured here in Sydney by our skilled team of craftsmen, using only the highest quality materials.
Over 20 years of combined experience in the industry.
Our qualified professionals have more than 20 years of experience to deliver the best bathroom renovations Sydney Sydney has to offer, while meeting your needs and making you satisfied.
Qualified and fully insured bathroom renovators.
For your peace of mind, our certifications meet all industry standards, which means our operations are approved and regulated in accordance with Australian quality standards.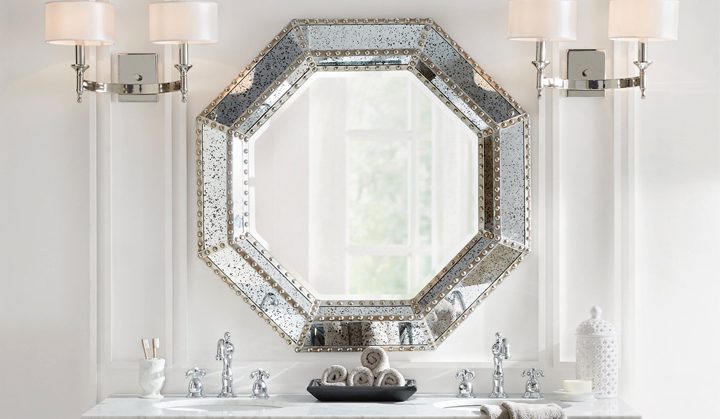 A bathroom company that truly listens.
Our bathroom renovators aren't just the best when it comes to bathroom renos but are excellent at the art of communication. You can be assured that our team will always listen to your needs and any ideas you may have to create your dream bathroom renovation. With our friendly team, you can always get in touch for any issue or a follow-up. You'll find our customer care support is second to none.
The end result? A flawless bathroom renovation, created by licensed renovators, warranted and excellently delivered on time.
Delivering value for every budget.
Whether you are a homeowner or a business looking to get maximum bang for your bathroom renovation buck, you are at the right place with Badel Bathrooms. Collaborate and partner with a bathroom company that has the know-how to deliver a bathroom renovation within your budget without compromising on quality. And best of all, once you receive your initial design and quote, you can rest assured there are no hidden charges or costs.
Popular Types of Bathrooms Badel Can Design For You
When planning your bathroom renovation project, a great place to start is with some basics on the types of bathrooms normally found in Aussie homes and businesses. Checkout the most popular bathroom types below along with some tips and pointers to consider for each one.
Master Bathroom
The master bathroom is typically connected to the master bedroom and whether you have alot of space to work with for your master bathroom or just a slither, this is a space where relaxation is usually a high priority, along with practical touches like double sinks, to make the morning rush out the door easier. Typically clients opt for a luxurious or spa-like feel in this bathroom to create a space where they can relax and unwind.
Contemporary Master Bathroom
When you're after a master bathroom that has more of a zen vibe than a luxury or opulent feel, with clean lines and neutral, yet striking styling, then you'll love a contemporary master bathroom. Elements such as glass tiles, neutral stone counters, striped stone, and wood help create the contemporary bathroom vibe. The contemporary bathroom design should look like the master bedroom, but with a modern spa-like feel.
Full Bathroom
A full bathroom is a fully equipped space that includes the full range of amenities, typically including a shower, bath tub, sink and toilet. In most homes the full bathroom is a hive of family activity and with multiple people sharing the space, creating an efficient layout and incorporating storage solutions is of utmost importance. Many clients opt for items such as frameless glass showers to maximise the sense of space.
Three-quarter Bathroom
A three-quarter bathroom focuses on providing the essentials, when a full bathroom won't quite fit or isn't needed. The three-quarter bathroom usually combines a shower, vanity and toilet with some storage. In many homes a three-quarter bathroom is located near guest bedrooms so that visitors don't need to share the family bathroom.
Powder room
Powder rooms are usually small, including just a vanity and toilet, but despite their size, they can make a whole lot of difference. The purpose of a powder room is to provide guests and visitors a bathroom and avoiding sharing the family bathroom. Impactful wallpapers and statement fixtures are popular in powder rooms to give the room some dimension and style. Being a small space, you can afford to splash out on some luxury touches without breaking the bank.
Commercial Bathrooms
Whether it's for an office, shopping centre or restaurant, expert commercial bathroom design focuses on creating a space that can stand up to high traffic, with a minimum of repair and maintenance. It is crucial that commercial bathrooms are planned out to blend form and function and that the design considers the need to be easy to clean with hard-wearing fittings and fixtures.
What Our Customers Are Saying
Debbir Watson
3. August, 2022.
No idea they didn't return my calls
Caroline Mathias
10. April, 2022.
We have had a wonderful experience with Badel kitchens and Joinery. We were really lucky to have been referred to them by a colleague who was also impressed with their work. We had just purchased our home and needed to redo the 2 bathrooms and kitchen. From when we first met Zaia for the design and plan to the finish, was such a smooth sailing experience. Zaia and his team Ramon, Ninos, Elias, Aziz, James, Nazzem were just fantastic. They were professional yet so kind and accommodating. We had quite a tight timeline and they were happy to work with our requests and really delivered. They provided a lot of input into design ideas, and even guided us along the way in choosing fittings. Zaia was always contactable and approachable. And at the end, we were so pleased with our remodelled home. I highly recommend this team and they will certainly be part of any future renos/remodels/builds we decide to undertake. Cheers and much thanks to this fantastic team. Thanks for our beautiful home.
Daniel Ginting
6. April, 2022.
We recently did a renovation to our 30 year old kitchen. Having contacted few other places, Badel Kitchen was the only one who actually willing to come and discuss the design before giving us a competitive quote. Other places would prefer us to send them photos and measurements then only they are willing to come if you accept their estimated quote. The team at Badel Kitchen (Zaia, Elias as well as electricians and plumbers which they organised) are very professional and accommodating to our specific requests. Along with few hiccups throughout the process, they were able to move things around without much hassle. Overall, we are satisfied with the quality of their work and would recommend them to our friends and family.
Simon Deevy
31. March, 2022.
Zaia and the team at Badel did an amazing job with our bathroom renovation. Our ask was to convert a bathroom and laundry space into an ensuite, main bathroom and laundry. Zaia came up with a beautiful design and layout which looked great and was very practical. From the initial consultation to working through the details to the actual work was a very good experience. He made recommendations and his expertise on how to build a great bathroom was obvious and made sure it feel easy. It was a massive job and despite the challenges of the lockdown we are very happy with the result. I definitely recommend Zaia and the team at Badel for bathroom renovations. You will be very impressed with their work and service.
James Edwards
30. September, 2021.
Friendly staff and excellent workmanship. Would certainly recommend them to anyone renovating or wishing to put in a new kitchen.
Kiran R.K.Rajan
5. June, 2021.
We hired Badel Kitchens to renovate our kitchen and laundry for the purpose of updating the look and establishing more cabinet and bench space. I absolutely LOVE my new kitchen and laundry. It feels like a new house! I am so happy to have gone with Badel for the following reasons: * Badel Kitchens (Zaia) were responsive (throughout the whole project, not just at the sign up), easy to talk to and competitively priced. Zaia was not interested in upselling, he genuinely listened to my needs and planned a kitchen to suit my lifestyle. His experience and understanding showed through suggestions offered. * Quality of the cabinets used is high. And that is their standard range. They have a good range of colour and style to suit many tastes. * ALL tradespeople hired by Badel are professional, highly skilled and clean up after themselves. Genuinely a good bunch of people all round. * Badel Kitchens provided me with clear expectations around the timing of the job including a schedule which they predominantly stuck to. I was never in a situation where i was calling to see where the trades people were. * Zaia's expertise go beyond just kitchen and bathroom cabinetry. The team are experienced at doing large renovation jobs and project manage everything from electrician, plumber, painter, tiler, everything. This made my life a lot easier as Zaia project managed all contractors required. Having two little kids I was a bit overwhelmed by the thought of doing a kitchen reno but Zaia and the team worked seamlessly and efficiently to get the kitchen up and running as soon as possible. They were fast but never compromised on the quality of the job. Zaia is a perfectionist and did routine inspections to ensure things were up to scratch. He never had a problem with any request, he always made it work. If you are thinking of renovating, i assure you will have a great experience with Badel Kitchens. There is a reason they have so many 5 star reviews. Big thanks to the whole Badel team for such a fantastic job.
Hi Zaia Thank you so much for assisting us in designing our dream home office (and TV unit joinery). Having been working from home for now 4 years, setting up a proper home office had now become a necessity. After speaking to a few other service providers, I came across Badel Kitchens. The service offered by Zaia from start to finish was really friendly. Despite his busy schedule and client commitments, his attention to detail and project management was spot on. Had we not worked with Zaia, I highly doubt we would have achieved the holistic outcome that we did with Zaia's assistance - this included him providing practical advice on how we should go on about designing our office, the various electrical and data points we should install etc. Zaia coordinated this with his electrician also - this would not have been possible if we were project managing the joinery and electricals ourselves. Nothing was ever too difficult for him to fix for us. We are so appreciative for all the work he has done for us. It is a pleasure spending time in this office. There will be no one but Zaia assisting us in future with any renovations we require - we are clients for life! Thank you so much!
Loredana DB
29. January, 2021.
The team at Badel were so wonderful to work with, I cannot stress that enough. Zaia was so patient with all the changes I kept making to the design of our kitchen, was always responsive to our needs, and listened to everything we had to say. Emmanuel and his brother (who did the installation) were great men who took such pride and care in their work. We are so happy with our beautiful new kitchen and laundry, it has modernised our home. They worked around our schedule with a new baby on the way and made sure everything was done quickly but of the utmost quality. If we ever renovate a house again or build in the future we will definitely be going back to Badel. Their professionalism and friendliness made them all so pleasant to work with. I strongly recommend them for any of your home design needs! You will not be disappointed. Thank you again to Zaia and the team for transforming our home.
James takes great pride in his work and has provided magnificent joinery for my home including vanities, built in robes and a wall to ceiling bookcase for our study. The workmanship and professionalism is outstanding. Wish I had come across him sooner. Highly recommend him.
GRACE AGBULOS
27. January, 2020.
My husband and I recently renovated our kitchen and laundry room just before Christmas 2019. Emanuel of Badel Kitchens & Joinery was highly recommended to us by our friend. We told Emanuel what we want for our dream kitchen. He was very attentive to details during the design process, listening to all we need to make it a functional kitchen. It was a busy time of the year coming to Christmas which made it difficult, but Emanuel and his team worked hand in hand with our builder to accomplish what needs to be done. The journey was not all straightforward but Emanuel managed to coordinate every tradesmen involved in the project. The end result was fantastic. Our friends that came over our place were amazed how our kitchen came out with such a wow factor. My husband and I won't hesitate to recommend Emanuel for his high standard and great quality of workmanship.
Frequently Asked Questions
Have a read of our Frequently Asked Questions below. Hopefully this will answer any concerns that you may have. For further information, please feel free to contact us directly via our Contact Us page.
How do I get started on my bathroom renovation?

We find the best way to get your feet wet is to simply book an appointment with a Badel bathroom designer by calling our friendly team to make an appointment (or book online if your prefer) with one of our experienced Sydney bathroom designers.

What will happen in my bathroom design consultation?

We will discuss all available options and find the right solution for you such as samples for tiles, colours, shower screens, vanities and other bathroom accessories. Our preliminary meeting includes measuring the bathroom and helping you choose the best design and accessories to maximise your space, budget and chosen timeframe.

How does the quote and design process work?

After your initial consultation, our designers will provide a design concept and quote for you to review. Once you're happy with the design and quote, it's as simple as approving the quote to get started on your bathroom renovation.

Who will manage my bathroom renovation project?

We will provide a dedicated project manager to look after all the details of your renovation. Upon your approval, your project manager will provide you with a complete programme and timetable of your bathroom renovation project so you know exactly what is happening every step of the way.

Who will manage the other tradespeople required for my bathroom renovation?

Your project manager will be in charge of coordinating and delegating various tasks to the appropriate tradespeople and making sure your project stays on schedule at all times. They will stay in touch with you throughout the process and are always just a phone call away.

What warranty do you provide?

Once you examine your newly renovated modern bathroom and it has met your expectations and specifications, we will hand it over along with our 10-year guarantee to ensure your bathroom stays in prime condition.