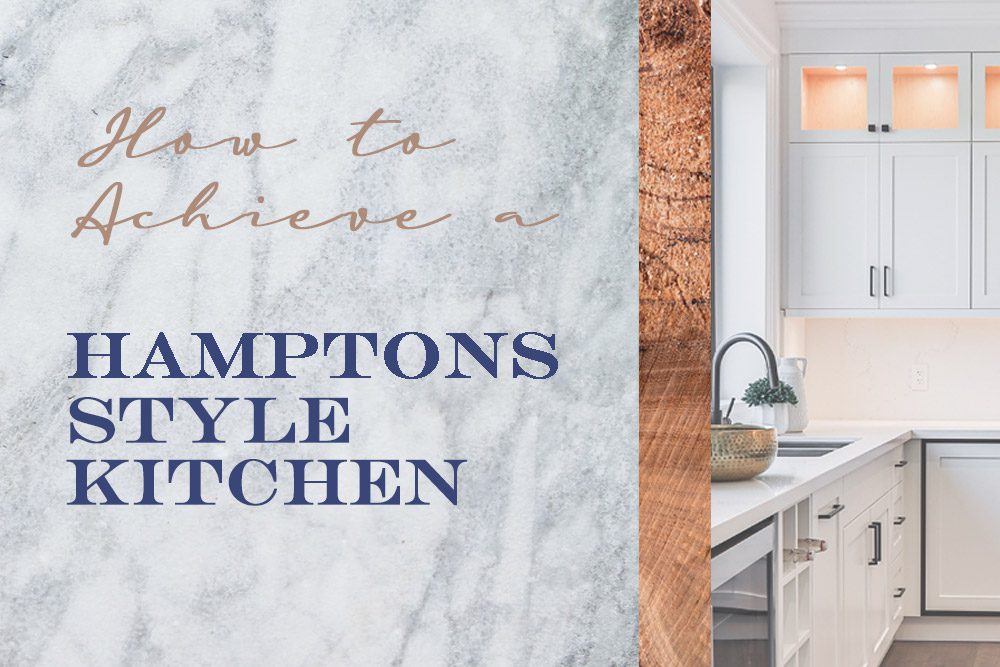 If you've ever walked into a kitchen that emits a clean, nautical, yet elegant vibe, you've most likely been in a Hamptons-style kitchen. Bright, crisp and based on a relaxed coastal vibe (without feeling kitchy or "themed"), the Hamptons Style has struck a cord with Aussies and the style trend has become one of the most sought after in 2021 – and going strong into 2022.
What is a Hamptons Style Kitchen?
Low-key Luxury
A Hamptons style kitchen is all about understated luxury – a lavish yet somehow low-key life by the sea. It's a well-balanced mix of classic and modern elements, with a strong emphasis on entertainment. With a focus on soft neutrals, textured accents, light, bright areas, and decorative details, a Hamptons style kitchen design will encourage you to embrace the relaxed, luxury feel of seaside living and bring some of that vacation charm into your everyday life.
Relaxed Elegance
The Hamptons style is noted for being light, airy, and expansive, with a laid-back seaside atmosphere. At the same time, the styling exudes wealth, refinement, and subtle elegance.
If that sounds right up your alley, then read on and we're going to look at what it takes to achieve a Hamptons style kitchen for your home… But first, in order to properly comprehend today's enthusiasm for Hamptons style, let's dive into a little about where this style originates from.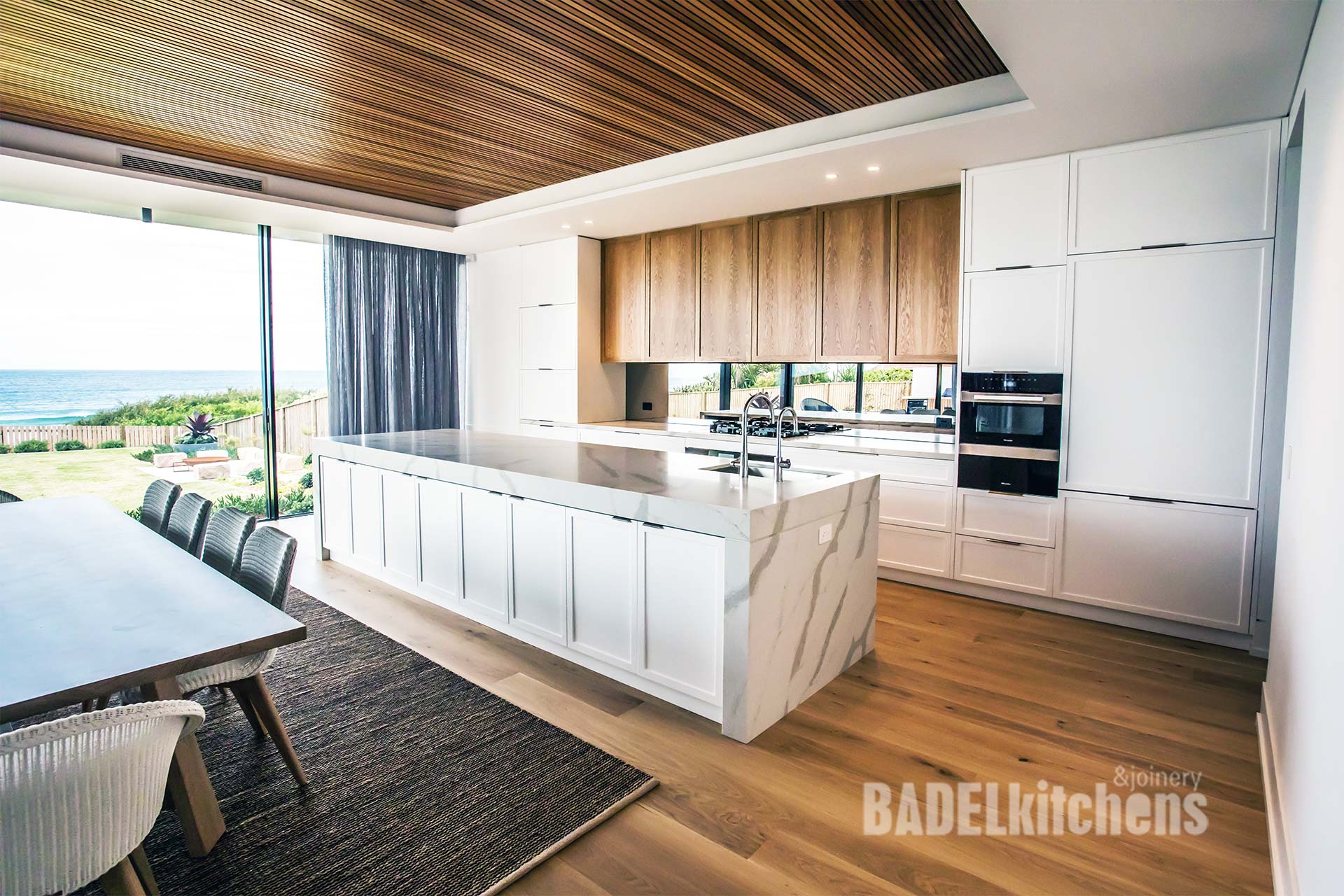 New York Inspired Hamptons Style Kitchens in Sydney
Playground to New York's Rich and Famous
An Hampton's style kitchen is an ode to the beautiful coastal Hamptons area near New York. The region was originally planned as a summer colony for well-to-do New Yorkers (hoytee toytee alert!), to give a respite from the hustle and bustle of daily life, and today is still well-known as an idyllic holiday spot for the rich and famous, from Rihanna to the Kennedys.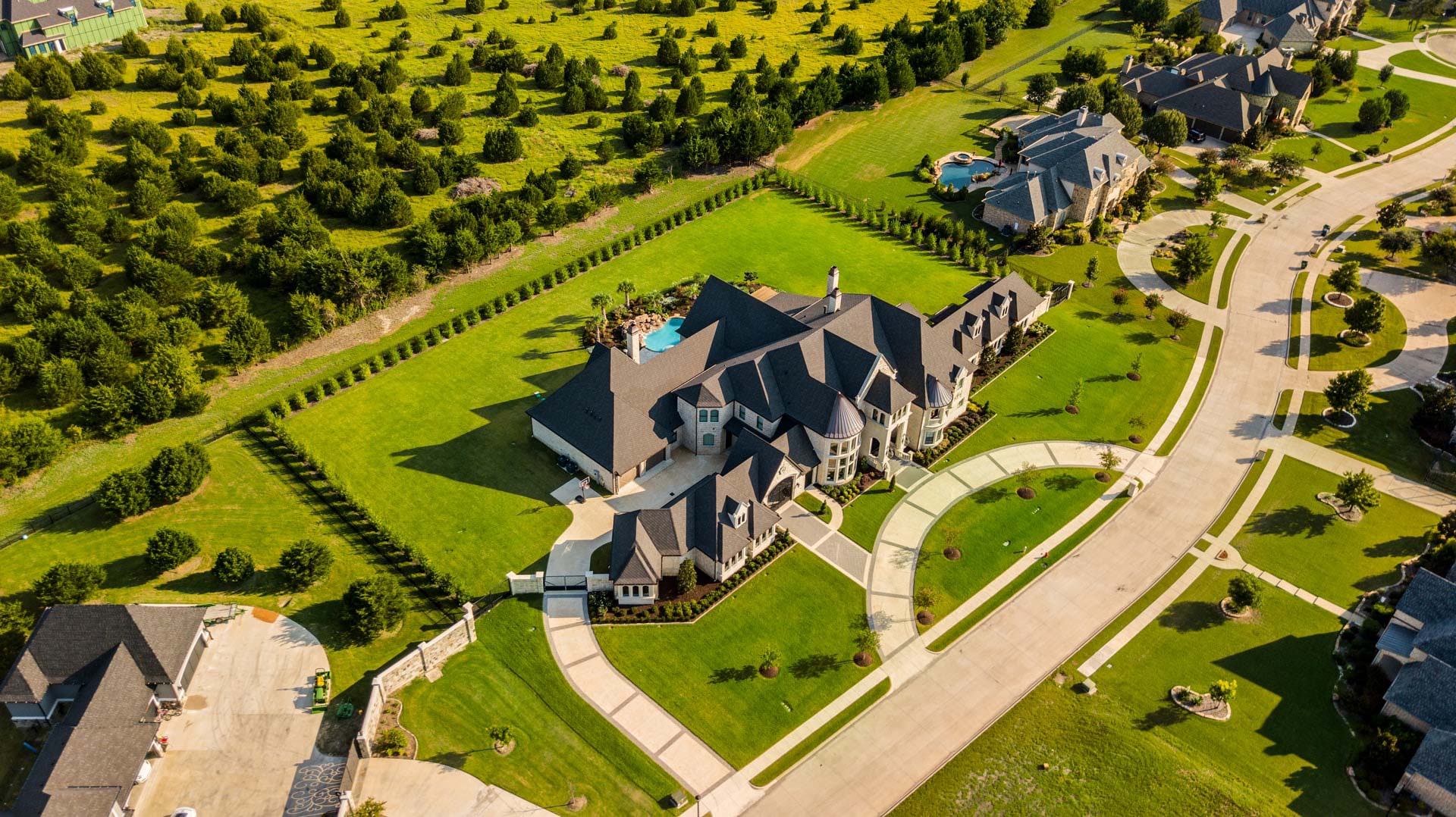 Why So Popular?
The Hamptons provide the ideal combination of oceanfront location, rural environment, historic charm, and exclusivity, all while remaining within driving distance of New York City. Think Whale Beach vibes. The region is also well-known for having a sophisticated art scene, great eats and fabulous parties. An Hampton's style kitchen exudes the same elegance and relaxed aura that's part and parcel of the Hampton's appeal. In keeping with Hampton's charisma and character, a Hampton's style kitchen speaks of rich taste and refinement. A balanced mixture of casual and elegant.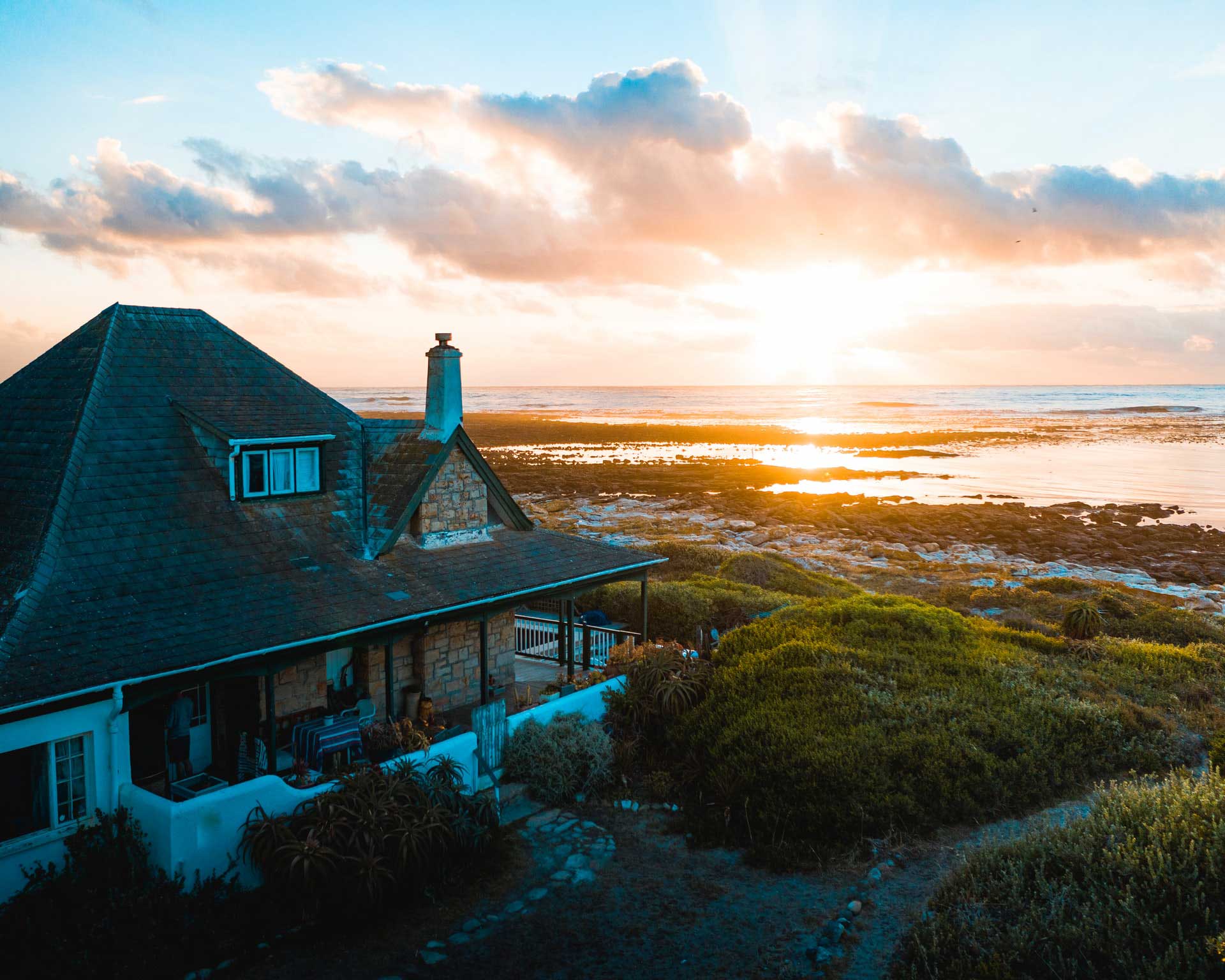 Will a Hamptons Style Kitchen Suit My Home?
Fortunately, you don't need a Long Island property to enjoy a Hamptons kitchen. Even if you don't live anywhere near a beach, you can still get in on this stylish trend. To see if it will suit your home though, you need to look at the architecture characteristic of the style to see whether it will work for your space.
Open-Plan and Over-sized
On top of the list, Hamptons' homes are usually spacious, even oversized, exuding an air of wealth, so ideally you want a large amount of floor space, preferably an open concept to pull off this look. A Hamptons kitchen, when used in tiny and confined spaces, may make the space appear tight and cluttered. Other architectural hallmarks of a Hamptons style kitchen are pitched or high ceilings, over-sized kitchen islands that have generous space to manoeuvre around, timber floors, and wide windows that let in lots of natural light.
While having these elements is a big advantage, an experienced kitchen designer can help you recreate the feel in smaller spaces. Let's take a closer look at the key design elements that will help you achieve this look in your kitchen:
How to Achieve the Hamptons Style Kitchen: The Key Design Elements
The Colour Palette
The vibe so far is spacious and rich with high ceilings. That makes guessing the color pretty easy. In order of preference, white is the first choice. However, neutral colors along with soft and sandy tones also do a good job in blending with the coastal setup. Soft greys, blues and even greens that mirror the sandy beaches, blue/grey waters and coastal grasses.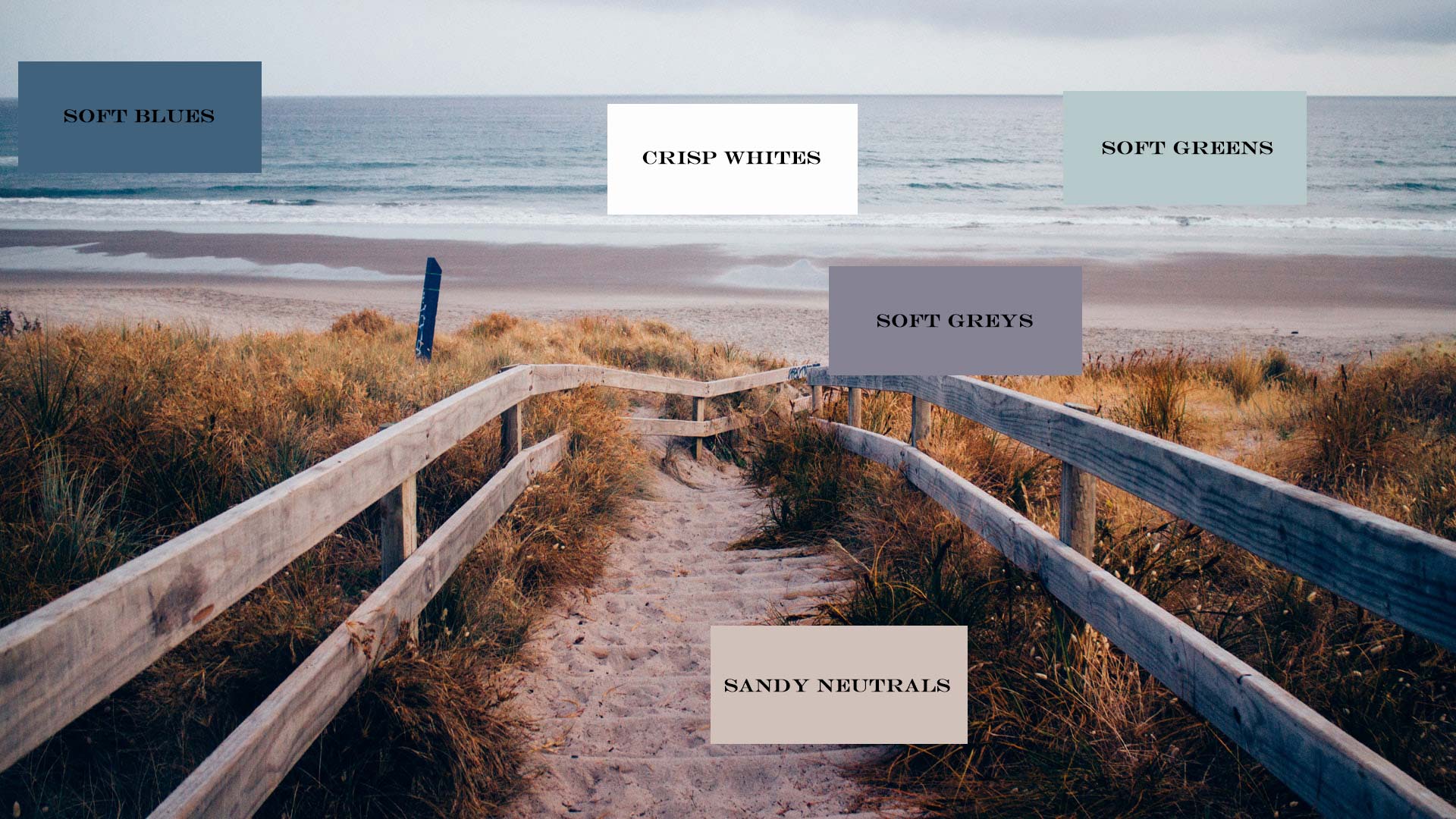 Pendant Lighting
Bright and functional lighting is a fundamental aspect of Hampton's kitchen design. The key here is large, pendant lights that accent the tall kitchen ceilings. Glass pendants with metal accents or rattan pendants are popular choices.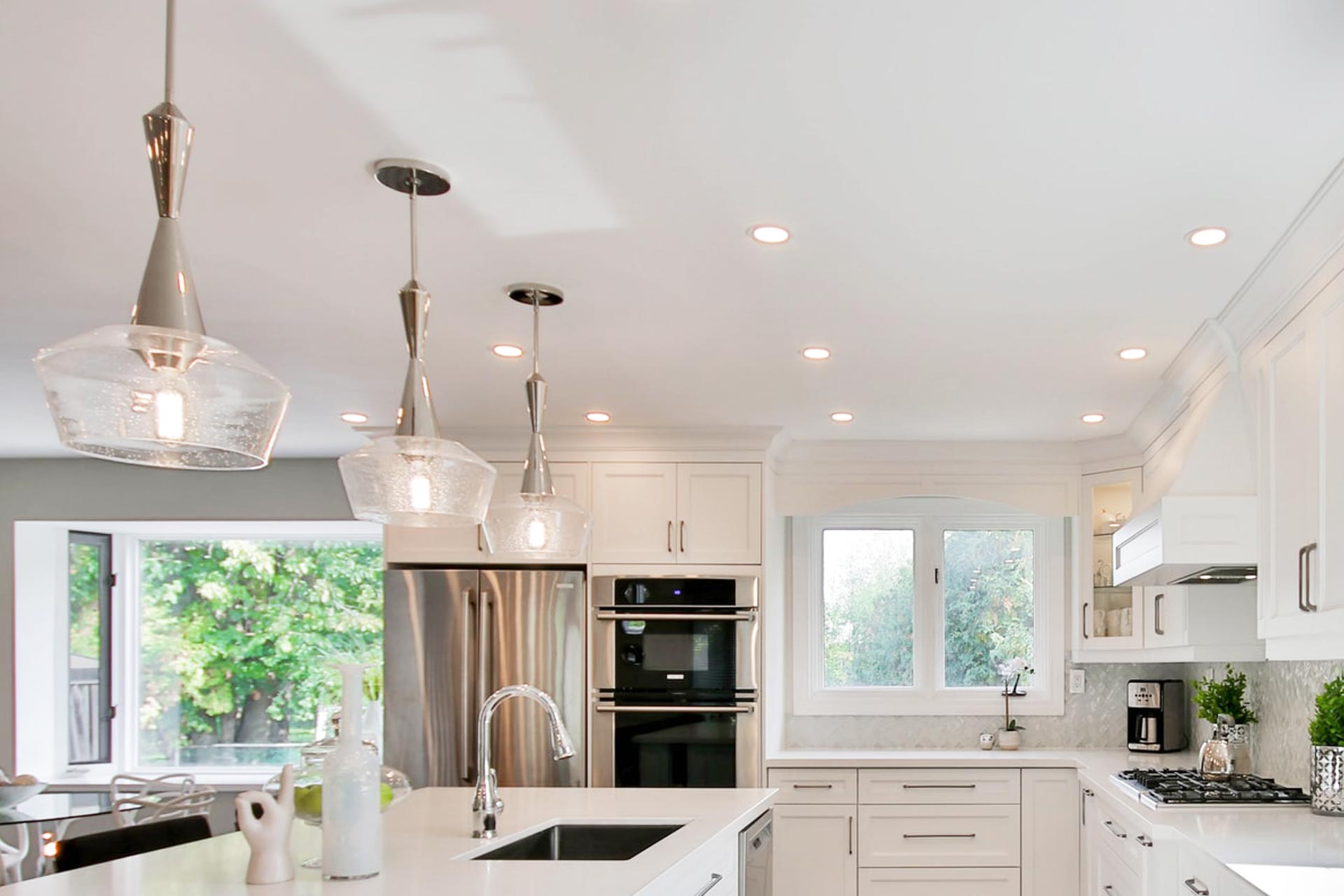 Cabinetry
For a perfect Hampton style kitchen, white Shaker style cabinets are the go to style, however, other variations of traditional cabinets with edge detailing and small knobs can also work.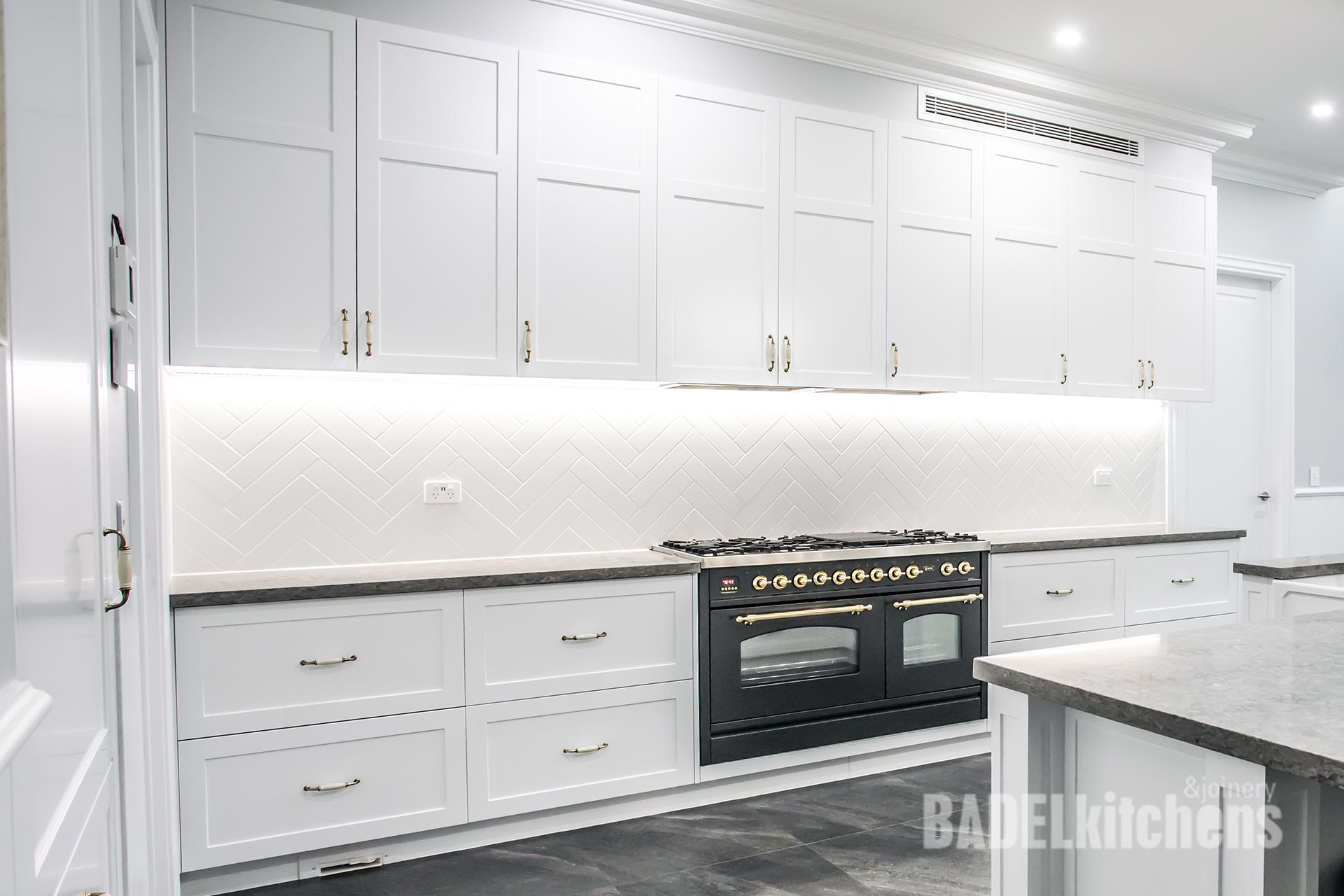 Islands & Benchtops
In a Hampton's style kitchen, you will never have to find the island; they are big, beautiful and prominent. The island is multi-functional – it can work both as a casual breakfast bar and provide additional space for storage. To add more charm to the island, panelled cabinetry with wood corbels are often added to it. Pairing the island with stone benchtops is a must. The best choice is marble, without a doubt as it adds the element of luxury that characterises the Hamptons. With that being said, reconstituted stone can also work well for the island and can be a more practical choice which minimises maintenance and the possibility of staining.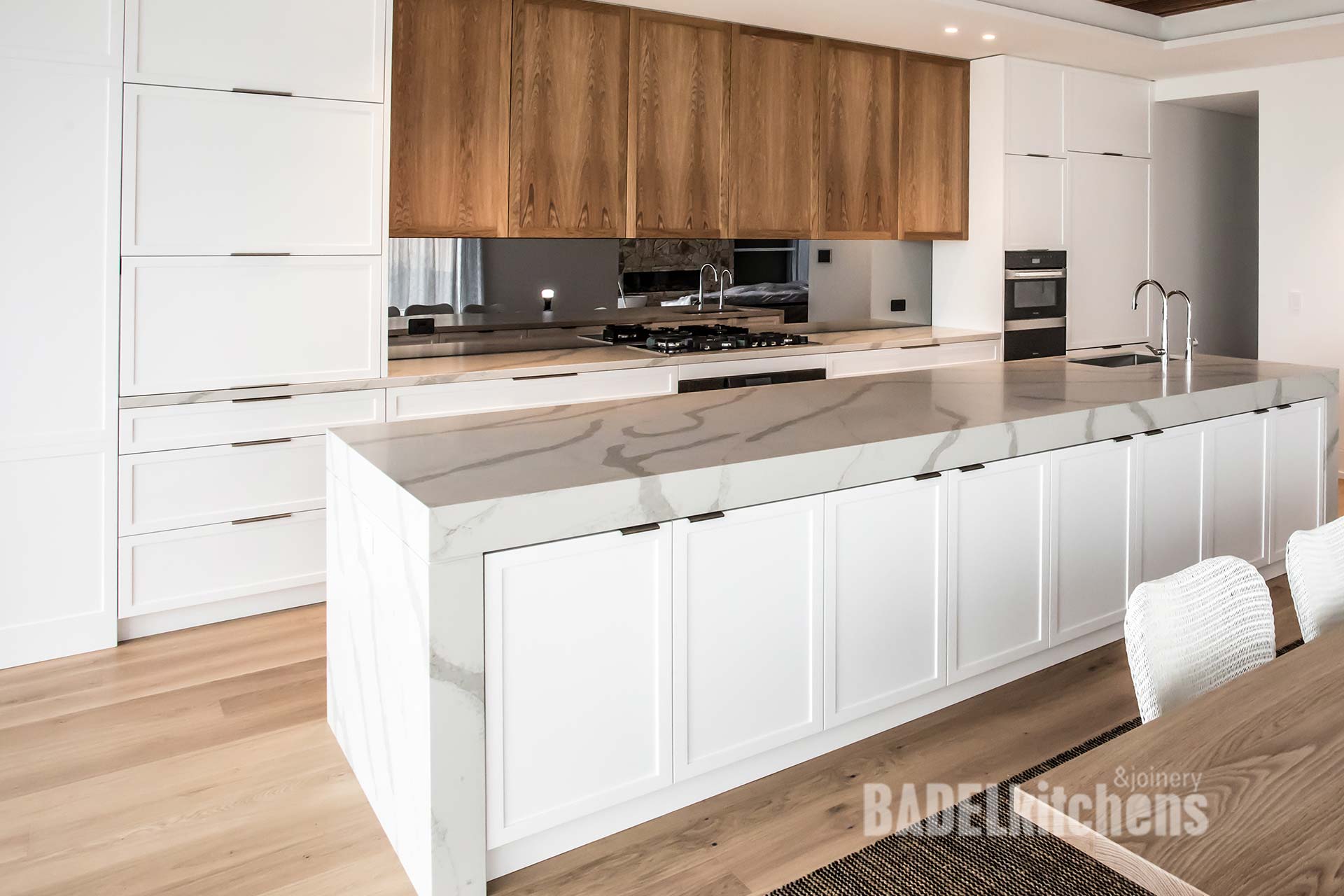 Splashbacks
Continuing the marble from your benchtops up on to the walls is one popular option for splashbacks. The other option for splashbacks would be subway tiles. They can be laid in a traditional brick pattern or, made into more of a feature by laying them in a herring bone pattern.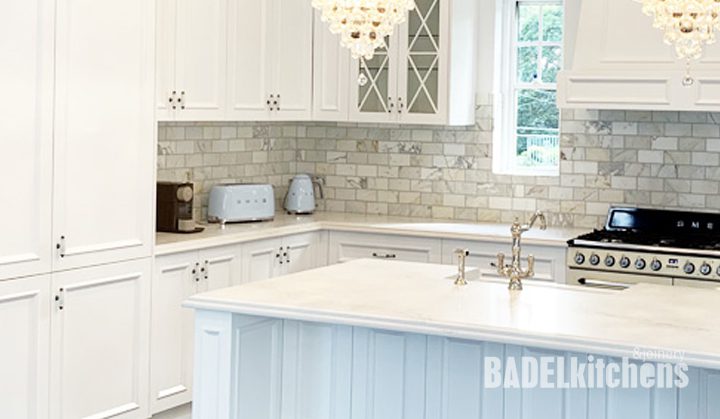 Flooring
The flooring has to be wooden, there's no 2 ways about it. Natural tones and textures are a cornerstone to achcieving this look. Traditionally you see more of the lighter and whitewashed wood, however, darker wood tones such as walnut can also look stunning, providing contrast with the cabinetry and adding a slightly more contemporary edge.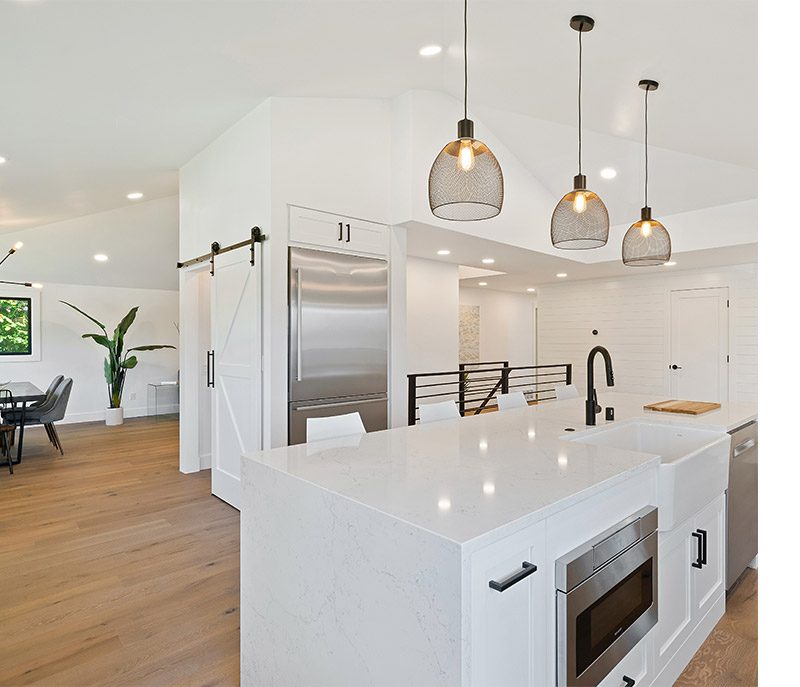 Looking for a French Twist, Perhaps?
You probably had zero time guessing that Hampton's kitchen has many similar aspects of a classic French style kitchen. Nowadays, the coastal styles in the kitchen must carry more sophistication than the beach. However, it needs elements to give the beach vibe, like decorative items adding a beach-like character. Other natural materials such as linen fabrics, cane, coir, glass, and wood also feature. Cane stools, often painted white, are a popular seating option for the kitchen islands.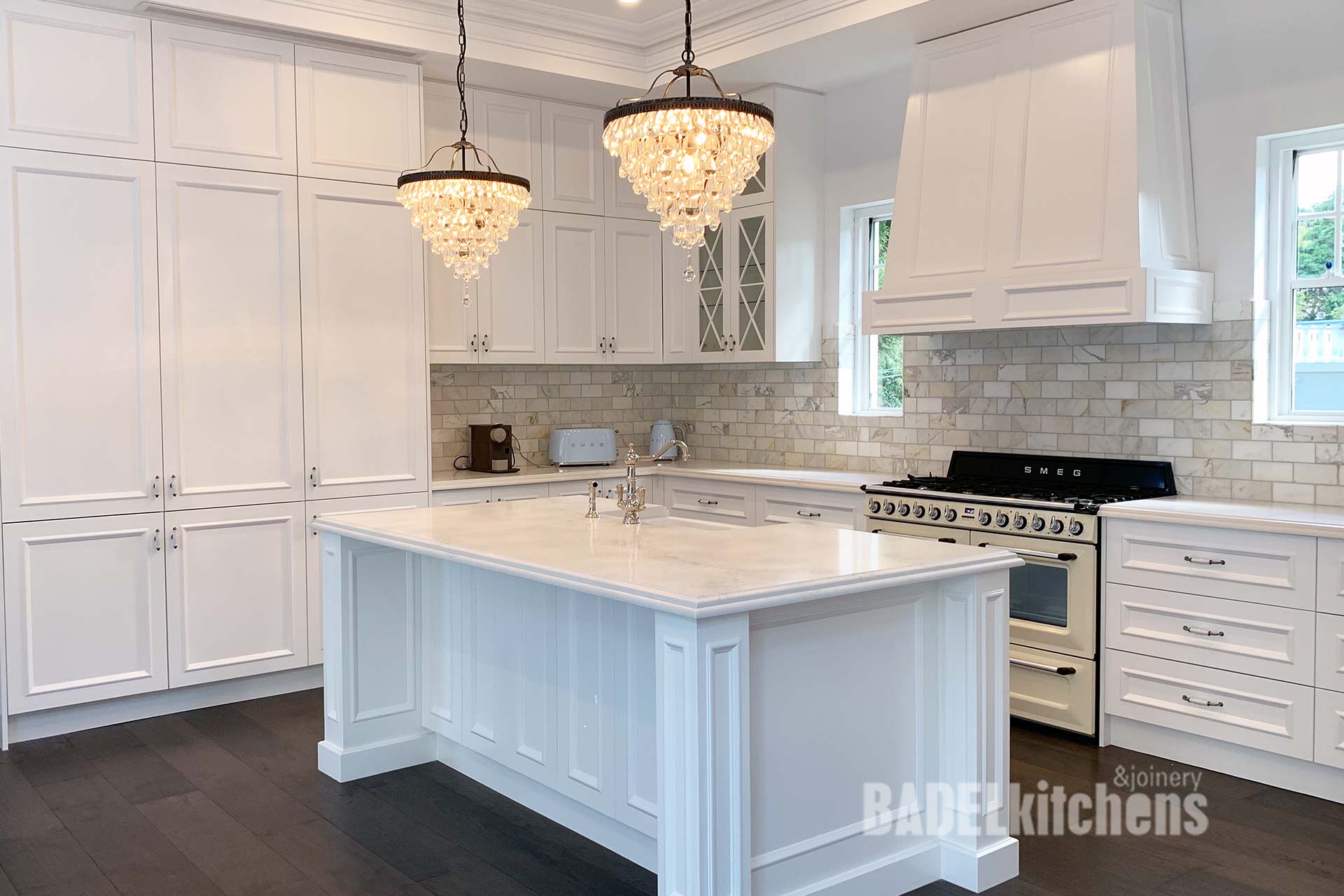 Need some advice designing your Hamptons Style Kitchen?
If you're planning your dream kitchen project and would like some expert design advice, Badel Kitchens specialises in designing, manufacturing and installing custom luxury kitchens. We invite you to get in touch and book a design consultation with our kitchen designers for a free quote and guidance. Our knowledgeable designers and meticulous project managers can help you get the best value for your renovation dollars and create a truly stunning kitchen. Call us on 02 9677 0855 to enquire or book.