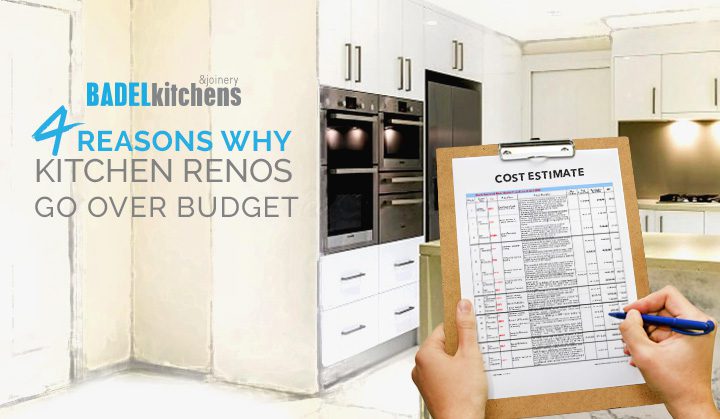 A great peril homeowners often face when undergoing a kitchen renovation is going over budget. Houzz recently asked kitchen designers about the common reasons kitchen renovations cost more than initially anticipated.
Here are the top 4 reasons you should know about.
Upgrading products or materials to a more expensive version

In the process of making perfect kitchens, homeowners tend to upgrade finishes and materials to a costlier option. In the middle of a project, some homeowners suddenly decide on switching to a different, more expensive model or an entirely different material at twice the cost (such as jumping from granite to marble). Oftentimes, homeowners even get overexcited at the different special features included in some items that they end up purchasing more than is necessary. Remember, once you've decided on your budget, have the discipline to stick to it.

Finding out that services/products were costlier than expected

This is where research is important. Although there are a lot of kitchen renovators in Sydney, a good one will be transparent to you about all costs. Make sure your kitchen designer and renovator can explain to you why certain products and services cost that much and what part of your budget you should allow a buffer to.

Making the project bigger

Some homeowners don't end the project with dreams about perfect kitchens. Instead, they decide to expand the project to other parts of the home as well. While it may be tempting to re-do your dining room alongside your kitchen, stick to your task at hand and renovate the rest of the house at another time.

Unforeseen construction issues

There are instances when, in the middle of construction, workers will encounter a wall completed eaten away by termites or perhaps a rusted pipe badly in need of changing. Sadly, when it comes to these problems, no amount of planning can prepare you for these sudden expenses. It's best to leave a buffer when allocating a budget (but be sure not to spend the buffer money on spur-of-the-moment purchases!)
Don't turn your dream kitchen renovation project into a nightmare. Decide on your budget early on and stick to it! Hire a kitchen renovator in Sydney you trust who cannot only stick within your timeframe but within your budget as well.
Begin work on your kitchen reno and contact Sydney's trusted kitchen renovators, Badel Kitchens and Joinery, and request for a free quote today.