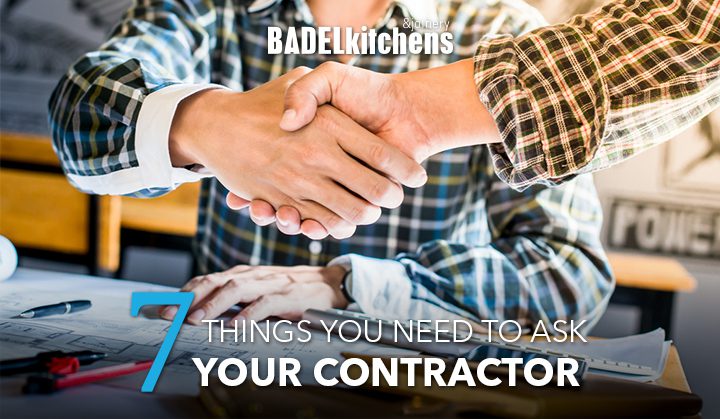 Looking for a contractor can be a tough job. It's a big step handing over and trusting your home to a complete stranger, but you shouldn't worry. Here's a list of questions all homeowners should ask potential contractors before starting a home renovation project that renovates your Kitchen and bathroom vanities in Sydney to keep your mind at ease.
What's your business history?
Before you hire a contractor, you'll want to dig up on their history. Ask about their license and experience in the business. It's also a good idea to ask for a list of previous clients and their contact numbers who can give you a testimonial as to how efficiently your potential contractor works. Ask about what licenses and certification they have. It's good to note, too, if they are a member of any associations or guilds such as the masters build or the HIA.
What is our schedule?
Don't begin any home renovation project without a schedule. This includes more than just a start and an end date. Your schedule should consist of a timeline of all the things to be done: date of the installation of cabinets, appliances, clean up, etc. You'll need this so you can keep track of the progress of your home renovation project and whether or not you're ahead of or falling behind schedule.
Who will be at the site and how will it be supervised?
Ask your contractor for a staff list with the names of all staff/workers entering and working on your home. You'll also need to know who is in charge of supervising all the said people so you'll know who will be handling the crew at all times.
How will you communicate with me?
There are so many ways to communicate and transfer data these days – everything from cloud-based transfers, emails, or even phone calls. Find out how your contractor will be sending you the plans, vital information, and updates, as well as the best and quickest way to get in touch with them.
What kind of documentation will I receive when the project is done?
Contractors often send you plans and blueprints, but there are a lot of other useful things you will need which contractors often overlook. Make sure your contractor turns over the instruction manuals of any appliances installed, how to care for your new countertops and tiles, to name a few. Talk to your contractor about the documents you'll be getting before you begin the home renovation project.
What's your work routine like?
Know how each day is going to be like. Ask what time each work day begins and ends, if there are going to be any breaks and how long they are going to be, etc.
Ask if they'll be working on multiple aspects of the home renovation project at the same time or if they'll focus on just one at a time.
Can I get that in writing?
You'll want to get everything in writing to ensure that both you and your contractor deliver on what had been agreed upon.
The most important part in any home renovation project is open communication between the homeowner and contractor. Make sure you build a foundation of trust and good communication to make sure you stay on top of any project you plan on doing.
Badel Kitchen and Joineries employs a team of professional and well-trained contractors to take over your projects for the renovation of bathroom showrooms in Sydney. Begin your home renovation project with us today. Badel Kitchen and Joineries – the leading experts in construction of bathrooms, fitouts, and kitchens in Sydney.